WASHINGTON - Susan Rice, the US ambassador to the United Nations and a close confidante of President Barack Obama, withdrew her name from consideration as secretary of state on Thursday in the face of what promised to be a contentious Senate confirmation battle.
Rice has drawn heavy fire from Republicans for remarks she made in the aftermath of a Sept 11 attack on the US mission in Benghazi, Libya, in which four Americans were killed, including Ambassador Chris Stevens.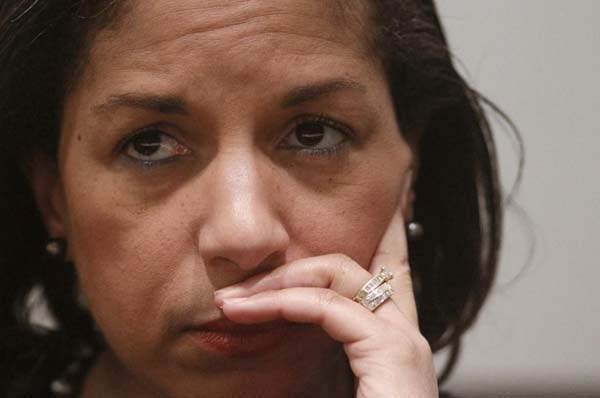 US Ambassador to the United Nations Susan Rice speaks to members of the media in San Francisco in this Feb 10, 2011 file photo. [Photo/Agencies] 
"I am highly honored to be considered by you for appointment as secretary of state," Rice said in a letter to Obama. "I am fully confident that I could serve our country ably and effectively in that role. However, if nominated, I am now convinced that the confirmation process would be lengthy, disruptive and costly."
Her decision increases the odds Obama will turn to Senator John Kerry, chairman of the Senate Foreign Relations Committee and the 2004 Democratic presidential nominee, to replace Secretary of State Hillary Clinton when she steps down early next year.
Rice's surprise withdrawal spares Obama a potentially bruising nomination fight in the Senate, even as he grapples with congressional Republicans over tax, debt and spending policy to avoid the  "fiscal cliff."
An announcement of Obama's national security team could come as early as next week. Officials say Obama is giving serious consideration to nominating former Republican Senator Chuck Hagel as his defense secretary to replace the departing Leon Panetta.
Also in the mix for the defense job are Michele Flournoy, a former undersecretary of defense for policy, and Ashton Carter, the current deputy defense secretary.
Obama had harbored hopes of picking Rice, 48, as the nation's chief diplomat. She was an early foreign policy adviser to him when he ran for president in 2008 and became the first black woman to serve as US ambassador to the United Nations. She was widely seen as the natural replacement for Clinton when the current secretary moves on.
But Rice has faced relentless criticism from Republicans about comments she made days after the attack in Libya.
She went on five Sunday television shows on Sept 16 to say that preliminary information suggested the assault was the result of protests over an anti-Muslim video that was made in California rather than a premeditated strike.
The video, posted on the Internet under several titles including "Innocence of Muslims," mocked the Prophet Mohammad and portrayed him as a womanizer and a fool.
US intelligence officials have since said that militants with ties to al-Qaida affiliates were involved in the attacks, and acknowledged there were no protests. Rice has said she relied on talking points from the intelligence agencies when she spoke, and Obama has angrily denied suggestions the White House played down terrorist connections for political purposes.
The White House has said Rice's comments were based on the best information Rice had at the time.