A Singaporean celebrity has designed a set of commemorative stamps featuring two star pandas that will be the island's latest residents from China. Valerie Ng talks to Edmund Chen about panda mania.
Chinese audiences know him as the hero of television serials imported from Singapore in the 1990s. Edmund Chen charmed a generation of TV viewers who became addicted to soap operas from Singapore.
Now Chen is in the limelight again, and the China connection this time is two of Singapore's newest residents - specially flown in on a four-hour flight from Sichuan's provincial capital Chengdu.
Giant panda Kai Kai and his female companion, Jia Jia, arrived in early September and are set to live in their brand new home for the next 10 years.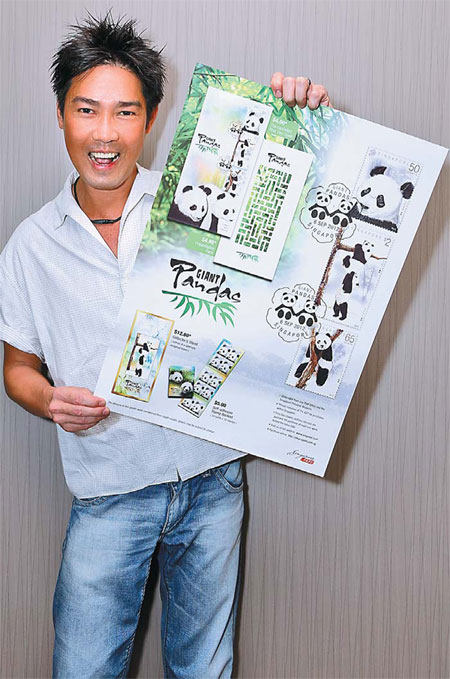 Under Edmund Chen's colored pencils, the pandas come alive on the commemorative stamps. Photos by Sam Yeo / for China Daily
Singapore has welcomed its pandas in various ways, but featuring them in a set of commemorative stamps and first-day cover is a particularly attractive memento.
The man behind the cute and artistic designs is the same Edmund Chen, an ambassador for Singapore Post, or SingPost.
"Designing panda stamps is the dream of many designers," says Chen, in a phone interview. "They are not just any pandas, they are star pandas!"
Under his colored pencils, the adorable and lovable pandas come alive. They appear mischievous and active - rather than the stereotypically laid-back creatures they are often portrayed as.
The stamps show endearing close-ups of Jia Jia; and of Kai Kai perched on a tree while Jia Jia gives him a boost.
The differences between the pandas are obvious if you look closely.
"I went online to find out the differences between male and female pandas, and found that male pandas are more active, while female pandas are demure," says Chen, who spent eight long months on research.
But the most challenging part of the design was, he did not get to see the pandas for himself before starting work. Instead, he was given about a dozen photos of them.
"From the photos, I noticed that one of them had a roundish onion head with a straight black patch on the eye; and the other, a square mantou (bun) head with a curved black patch on the eye.
"Based on their photos, I guessed that Jia Jia was the one with the mantou head and curved black patch," he says.
Chen was spot on, as confirmed by the panda keepers later.
The design itself took about two intensive weeks, so intense that he fell ill right after completing the project.
"I rejected all other jobs during that period and locked myself up, staring at the panda photos and trying to grasp their spirit," he recalls.
"I had to draw every single fur. There was a lot of layering involved. For example, the white fur is not pure white but a combination of white and other colors. The problem with colored pencils is, if I make a mistake, I can't modify it. I have to start all over again."
Singapore Post approved his first and only draft, after a group of experts scrutinized his work.
This was unlike his first set of designs for the SingPost depicting otters. That revision took a depressing six months, which hampered his confidence when he started designing the panda stamps.
"The process and end result (of the panda stamps) were very satisfying," he adds.
Chen did not train as a graphic designer. Coming from a humble family background, he did not have many toys or gadgets as a child. That forced him to look for ways to amuse himself.
"My parents gave me a box of colored pencils, which initiated me into the wonderful world of color and creativity. I drew almost everything that caught my attention," he says.
His a-ha moment came when he was in the fifth grade.
"I went to my friend's home one day after class and was immediately attracted by the fish tank in his house. To me, as a young boy, the fish tank was a colorful and gorgeous ocean filled with charm and excitement.
"When I went home, I begged my parents to buy me a fish tank with some fish but was rejected. They felt that rearing fish was a luxury and we didn't have extra money for that."
Unwilling to give up, Chen decided to realize his dreams on paper. Every day, for two weeks, he went to his friend's house after school.
"I looked at those fish intently, trying to memorize their posture, colors and every detail, before putting them on paper."
That childhood experience planted the creative seed in him and nurtured his love for drawing animals.
"I like drawing animals because they transcend language and cultural boundaries. When I draw them, I pay special attention to their characteristics, and try to grasp their individual charm and temperament."
Chen's panda stamps received an overwhelmingly positive response from Singaporeans. On Sept 6, the day Kai Kai and Jia Jia arrived in Singapore and also the day the stamps were released, there were long lines of people waiting to buy the stamps at every post office.
Everyone wanted a piece of the pandas, and by the evening of the second day, the stamps were sold out.
The value of the stamps in the set also held special significance. Priced at S$0.50 (40 cents) and S$0.65, they represent the cost of sending a postcard or an airmail letter from Singapore to China.
There is also a set of stamps at S$2 and first day covers at S$10 each.
Chen is very proud that his family was also involved in the creative process. Son Yixi, 21, and daughter Yixin, 12, helped Chen, with Yixi designing the panda on the first day cover, and Yixin helping to design the commemorative postmark.
"It is really meaningful to be able to design the stamps together with my family. It has enhanced our bond with each other and in the process, my kids understand my work better," says Chen, who is married to Singaporean actress Xiang Yun.
Besides producing and hosting programs, singing and acting, Chen is an illustrator and author of eight series of children books - and yes, they are all about animals. Many of his books have received recognition in Singapore and won international awards.
Contact the writer at valerie@chinadaily.com.cn.