Saving up for Christmas Spree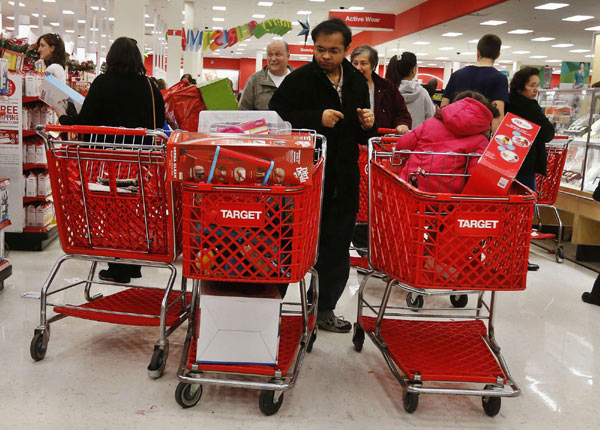 People shop at a Target store in Westbury, New York, Nov 23, 2012. [Photo/Agencies]
According to a Reuters/Ipsos poll, two-thirds of shoppers were planning to spend the same amount of money as last year or were unsure about plans, while 21 percent intended to spend less, and 11 percent planned to spend more.
"I definitely have more money this year," said Amy Balser, 26, at the head of the line outside the Best Buy store in the Mall of America in Bloomington, Minnesota. "I definitely don't think (the economy) has bounced back anywhere near as much as it needs to, but I see some improvement," she said.
For others, Christmas is the focal point of their annual shopping.
"We cut back spending on birthdays and anniversaries so we'd have more for Christmas. We've adapted," said Cheri Albus, 58, of Papillion, Nebraska, after shopping at J.C. Penney at Westroads Mall in Omaha.
Retail stocks rose in holiday-shortened trading on Friday, in line with gains across the market. Among the leaders, Wal-Mart ended up 1.9 percent and Macy's Inc rose 1.8 percent.