NEW YORK/BLOOMINGTON, Minn - US retailers declared their experiment with earlier store openings to kick off the holiday shopping season a success on Friday, with those new hours expected to be a Thanksgiving night staple for more retailers next year.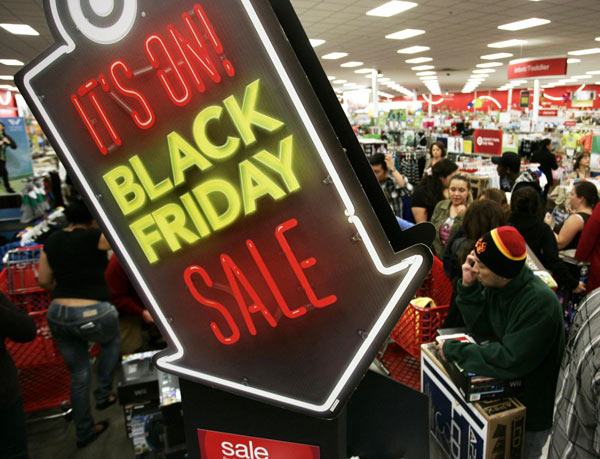 People shop at Target on Thanksgiving Day in Burbank, California, Nov 22, 2012. The shopping frenzy known as "Black Friday" kicked off at a more civilized hour welcomed by some shoppers this year, with retailers like Target Corp and Toys R Us moving their openings earlier into Thursday night. [Photo/Agencies]
Stores such as Target Corp opened hours before midnight on Thursday to try to capture a bigger piece of the retail pie. The move seemed to bring out a different type of shopper than the usual one who grabs the "Black Friday" deals, analysts said.
That meant by Friday morning, some shoppers, like Christian Alcantara, 18, at a J.C. Penney Co Inc store in Queens, New York, had already made a lot of their purchases. J.C. Penney stuck to a more traditional 6 am EST (1100 GMT) Friday opening.
"They should open earlier. I've been everywhere else and I've already shopped," he said.
Shoppers like Alcantara are likely to force holdouts like J.C. Penney to move their post-Thanksgiving sales into Thursday night next year, said Liz Ebert, retail lead at consulting firm KPMG LLP.
"There will be pressure on them. There'll be an expansion of it next year," Ebert said.
Hard data on "Black Friday" store traffic will not come in until this weekend. But analysts said retailers who opened early brought in a non-traditional Black Friday shopper, with more families coming in together and buying more than just the "doorbuster" sale items.
"I've never seen parents bring so many kids on Black Friday," Toys R Us Chief Executive Jerry Storch said.
The National Retail Federation expects sales during November and December to rise 4.1 percent this year, below last year's 5.6 percent increase. That made store operators' strategy important as they battled each other, rather than seeing a growing pie in a season when US retailers can make a third of their annual sales and 40 to 50 percent of their profits.
"Retailers want them to buy now, they want to get that share of wallet early," said Michael Appel, a director at consulting firm AlixPartners. He noticed that the Galleria Mall in White Plains, New York, was busy from midnight to 3 am, but that traffic, while still brisk, was less heavy by midmorning.
Shoppers used smartphones and tablets and a lot of research as they hit stores, a mobile phenomenon that started last year and seemed to be more prevalent this year.
Thom Blischok, chief retail strategist and a senior executive adviser with Booz & Company's Retail practice, was waiting on line with one woman in Phoenix, who was shopping for a refrigerator. Using her mobile device, she found the appliance online for the same price and left the store without. She intended to buy it online instead.
"There's a fundamental transformation of shopping," he said.
Mobile devices account for 45 percent walmart.com traffic and online traffic coming from Walmart's mobile app was three times bigger than last year, Joel Anderson, chief executive of Walmart.com, said.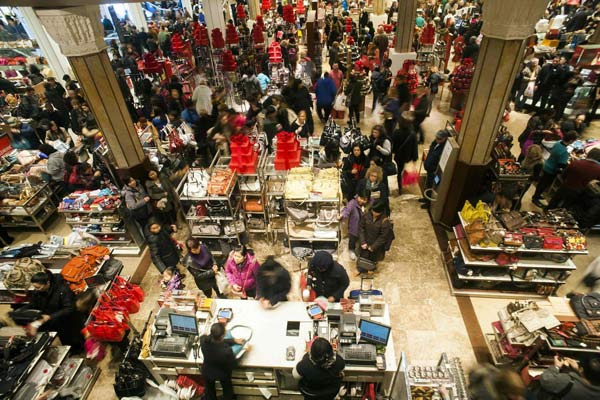 Shoppers look over items on sale at a Macy's store in New York, Nov 23, 2012. Black Friday, the day following the Thanksgiving Day holiday, has traditionally been the busiest shopping day in the United States. [Photo/Agencies]
Overall, online sales were up 20 percent versus the same period last year, through 3 pm EST (2000 GMT) on Friday, IBM said.
The National Retail Federation said 147 million people would shop Friday through Sunday, when deals are at their most eye-catching - down from 152 million the same weekend last year.
The NRF estimate did not account for Thursday shoppers and anecdotal evidence suggested retailers opening earlier may have cut into traffic on "Black Friday", the traditional start of the holiday season that denotes the point when retailers in the past would turn a profit for the year.
"People seemed to be shopping quite a bit, although in talking to mall management, it seemed that traffic was not as busy as last year," Deloitte retail analyst Ramesh Swamy said.
Retailers were also using technology better, allowing sales staff to match prices customers found online and having them use tablets as mobile "checkout stands" so buyers did not have to wait in line, a service consumers were quickly coming to expect.
"I even heard customers complaining about a retailer that didn't have mobile checkout," he said.