An explosion and smoke are seen after Israeli air strikes in Gaza city, Nov 17, 2012. Israeli aircraft bombed Hamas government buildings in Gaza on Saturday, including the prime minister's office, after Israel's cabinet authorized the mobilization of up to 75,000 reservists, preparing for a possible ground invasion. [Photo/Agencies]
GAZA - Health ministry of the Hamas authority in the Gaza Strip said in a report Saturday night that Israel has killed 45 Palestinians and wounded some 500 others since Wednesday afternoon.
The ministry said 17 of the 45 killed Palestinians are civilians.
Violence between Gaza militants and Israel broke out and escalated after the latter assassinated Hamas armed wing chief Ahmed al-Jaabari in an airstrike on his car in Gaza City.
Hamas militants fired hundreds of rockets at southern and central Israeli communities, towns and big cities like Ashkelon, Beer Sheba and Tel Aviv, as well as the suburbs of Jerusalem.
Israel, in return, carried out hundreds of air strikes on various targets in the Gaza Strip, and targeted the Hamas authority's buildings, houses of Hamas militants and rockets launchers.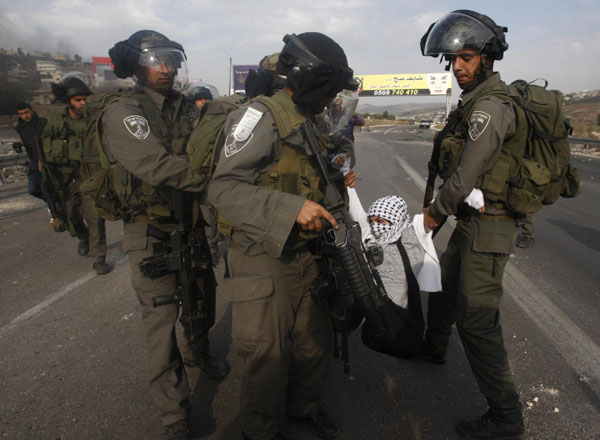 Israeli border policemen detain a Palestinian stone-thrower during clashes against Israel's military operation in the Gaza Strip, at Hawara checkpoint near the West Bank city of Nablus, Nov 17, 2012. [Photo/Agencies]
Meanwhile, Ashraf al-Qedra, spokesman of the Hamas-run health ministry, told reporters that three more Palestinians were killed Saturday night in two separate Israeli airstrikes on southern and central Gaza Strip.
He added that two were killed near the central Gaza Strip town of Deir el-Ballah, and the other one was killed east of the southern Gaza Strip town of Khan Younis.
He said the death toll of Palestinians across Gaza has climbed to 45 since Wednesday afternoon, adding that 70 percent of the casualties are civilians.