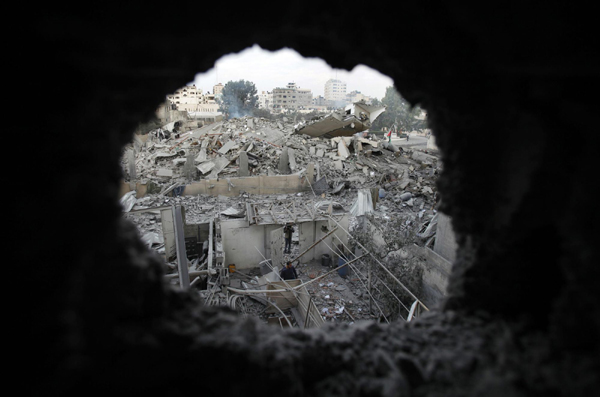 Palestinians are seen through a hole in the wreckage as they inspect the destroyed office building of Hamas Prime Minister Ismail Haniyeh in Gaza City Nov 17, 2012. [Photo/Agencies]
UNITED NATIONS - The Untied Nations Children's Fund (UNICEF) on Friday voiced its deep concern about the deteriorating situation in Gaza and Israel and its impact on children, calling for efforts to protect children in the conflict area.
UNICEF's appeals came at a time when both Israeli and Palestinian militants have brushed aside international calls for restraint on Thursday and engaged in more violence over the Gaza Strip.
"UNICEF calls on all parties to do everything to exercise the utmost restraint and to protect the rights and well-being of all children," UNICEF said in a press release.
"In the past two days, six Palestinian children aged 10 months to 15 years have been reported killed in air strikes on Gaza, and 60 injured," said the press release. "Another Palestinian child was reported killed by a rocket which fell short. Gaza is under closure making it difficult for civilians to flee."
In southern Israel, schools within 40 kilometers of the Gaza Strip remained closed due to indiscriminate rocket fire, it said.
"Both rocket attacks and air strikes are putting children and their families at risk, leaving them exposed to physical harm and mental distress," said the press release.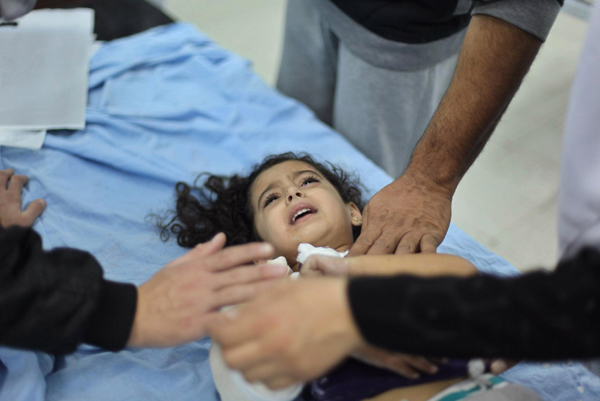 A wounded Palestinian girl lies on a hospital bed after an Israeli air strike in the northern Gaza Strip, Nov 17, 2012. [Photo/Agencies]