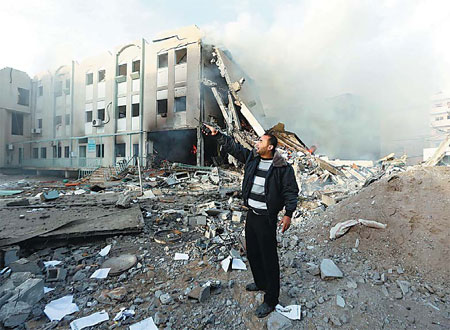 A member of the Hamas security forces gestures while standing in rubble after an Israeli airstrike on the building housing Hamas' ministry of the interior in Gaza City on Thursday. Mohammed Salem / Reuters
Egypt opened a tiny window to emergency peace diplomacy in Gaza on Friday, but hopes for even a brief ceasefire while its prime minister was inside the bombarded enclave to talk to leaders of the Islamist Hamas movement were immediately dashed.
Prime Minister Hisham Kandil visited the Gaza Strip on Friday officially to show solidarity with the Palestinian people after two days of relentless attacks by Israeli warplanes determined to end militant rocket fire at Israel.
Kandil told reporters that Egypt has started and will continue its efforts to end the Israeli "aggression" on the enclave.
A Palestinian official close to Egypt's mediators said that Kandil's visit, which included members of Cairo's secret service, "was the beginning of a process to explore the possibility of reaching a truce. It is early to speak of any details or of how things will evolve".
Israel undertook to cease fire during the visit if Hamas did too. But it said rockets fired from Gaza had hit several sites in southern Israel as he was in the enclave.
According to Hamas, the Israeli air force launched an attack during the Kandil's visit to the house of a Hamas commander for southern Gaza that resulted in the death of two civilians, one a child.
But Israel's military strongly denied carrying out any attacks from the time Kandil entered Gaza, and accused Hamas of violating the three-hour deal. "Israel has not attacked in Gaza for the past two hours," a spokesman said.
"Even though about 50 rockets have fallen in Israel over the past two hours, we chose not to attack in Gaza due to the visit of the Egyptian prime minister. Hamas is lying and reporting otherwise," the army said in a Twitter message.
Kandil said: "Egypt will spare no effort ... to stop the aggression and to achieve a truce."
Palestinian medics said two people were killed in the explosion, one of them a child. It raised the Palestinian death toll since Wednesday to 21.
But Israel's military denied later that it had carried out attacks to the enclave.
"Hamas does not respect the Egyptian prime minister's visit to Gaza and violates the temporary ceasefire that Israel agreed to during the visit," Ofir Gendelman, a spokesman for Israeli Prime Minister Benjamin Netanyahu, wrote on Twitter.
Air raid sirens wailed over Tel Aviv on Thursday evening, sending residents rushing for shelter and two long-range rockets exploded just south of the metropolis. The location of the impacts was not disclosed.
They exploded harmlessly, police said. But they have shaken the 40 percent of Israelis who, until now, lived in safety beyond range of the southern rocket zone.
"Even Prime Minister (Benjamin) Netanyahu was rushed into a reinforced room," said cabinet minister Gilad Eldan.
Israel has started drafting 16,000 reserve troops, in what could be a precursor to invsion.
The last Gaza war, a lop-sided three-week long Israeli air blitz and ground invasion over the New Year period of 2008-2009 aimed at ending repeated rocket attacks, left more than 1,400 Palestinians dead, mostly civilian, and killed 13 Israelis.
European Union foreign policy chief Catherine Ashton said on Friday that Israel had the right to protect its people against Gaza rocket attacks but urged it to stick to a "proportionate" response.
Reuters-AFP-Xinhua