MOSCOW - Russian President Vladimir Putin urged Israel and Palestine to avoid further escalation of violence in the Gaza Strip, the Kremlin press service reported Thursday.
During a telephone conversation with Israeli Prime Minister Benjamin Netanyahu, the two leaders "discussed the tense situation around the Gaza Strip", according to the Kremlin.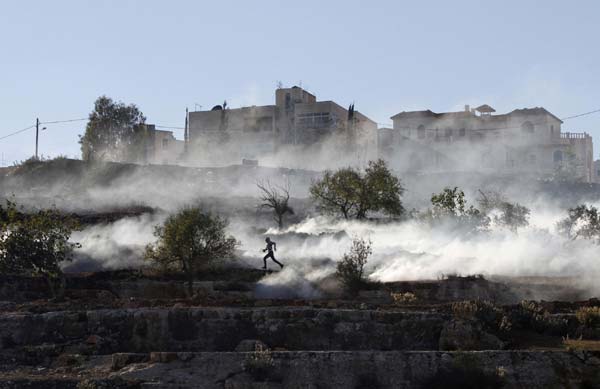 A Palestinian stone-thrower runs after Israeli security forces fired tear gas during clashes against Israel's military operation in Gaza, outside Ofer prison near the West Bank city of Ramallah Nov 15, 2012. [Photo/Agencies] 
Putin called for restraint of all parties involved and asked both sides to "do everything possible to normalize the situation", said the president.
Israel's military operation against the Gaza Strip went on for a second day on Thursday with casualties reported on both sides.
The Palestinian enclave of Gaza came under fire Wednesday when Israel launched a series of airstrikes, which killed Islamic Hamas movement's armed wing commander Ahmed al-Jaabari, in response to Gaza militants' incessant rockets fired into its southern part in the past few days.
Earlier Thursday, Moscow said Putin was following the Gaza situation and was worried about the turmoil there.
"President Putin receives online information from all our relevant services in charge of these and, of course, he is concerned with it," Kremlin spokesman Dmitry Peskov said.