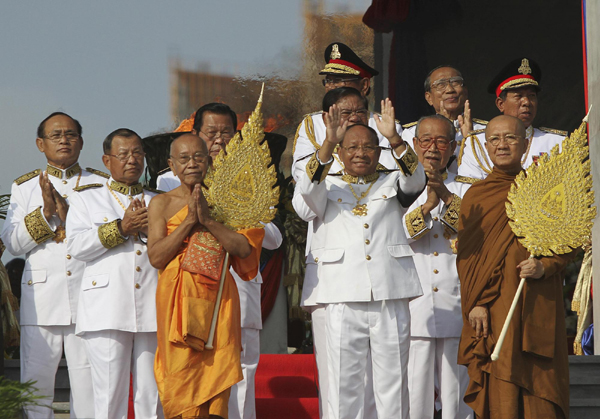 Cambodia's President of National Assembly Heng Samrin (C) greets people during celebrations marking the 59th anniversary of the country's independence from France, in central Phnom Penh, Nov 9, 2012. [Photo/Agencies]
PHNOM PENH - Some 10,000 Cambodians from all walks of life gathered at the Independence Monument for a celebration to mark the 59th anniversary of the country's independence from French rule on Friday.
The celebration was presided over by National Assembly President Heng Samrin, who on behalf of King Norodom Sihamoni, laid a wreath and lit the victory torch inside the Independence Monument. The victory flame will be kept burning for three days.
Doves and balloons were released into the sky as a sign of independence and freedom.
In previous years, King Norodom Sihamoni presided over such important event, but this year, the King failed to attend the celebration because he was still mourning his father King Norodom Sihanouk, who died of illness on Oct 15 in Beijing at the age of 90.
Cambodia gained full independence from the French protectorate on Nov 9, 1953 after late King Father Norodom Sihanouk conducted the royal crusade in 1952.
France ruled Cambodia from 1863 to 1953.