GUATEMALA CITY - Guatemalan President Otto Perez Molina on Thursday confirmed that the death toll of the 7.4-magnitude earthquake rose to 52, 22 people remain missing, and 1.2 million others were affected.
"The number of people (dead) is rising, officially we have 52 dead, 22 missing, and rescue workers are searching the rubble," Molina told a press conference at the National Coordinator for Disaster Reduction (Conrad).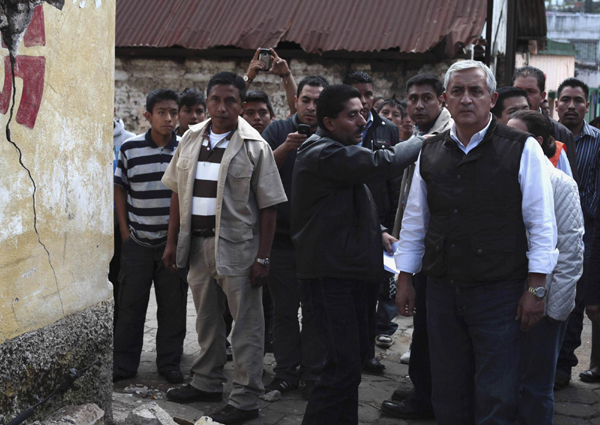 Guatemalan President Otto Perez Molina (R) visits an area affected by an earthquake in Palestina De Los Altos, in the Quetzaltenago region, about 230 km, from Guatemala City, Nov 8, 2012. [Photo/Agencies]
The president also declared three days of national mourning for the quake victims.
According to the president, 70 aftershocks have been recorded in the last 24 hours, and data from the Institute of Seismology showed that the earthquake have not released all the energy so more aftershocks are expected in the coming hours.
He said that the most worrying situation is cracking in several roads and mountains of western Guatemala, and recommended citizens not to travel in these regions, saying "I'm about to sign the decree to declare a state of calamity in the affected departments."
According to official figures, 5,251 house were damaged, 2,962 people were evacuated and 752 people now live in shelters.
The Conrad said that among the damaged houses, 554 homes were completely destroyed, 2,263 were uninhabitable, 2,000 have some sort of damage, 180 at risk of falling and 138 with minor damage.
So far the Guatemalan government has sent 44 tons of humanitarian aid to San Marcos province, the hardest hit area, and other provinces affected by the violent earthquake, which rocked the Pacific coast of the country on Wednesday.
On Feb 4, 1976, a 7.5-magnitude earthquake left nearly 23,000 people dead, 76,000 wounded and more than a million people homeless in Guatemala.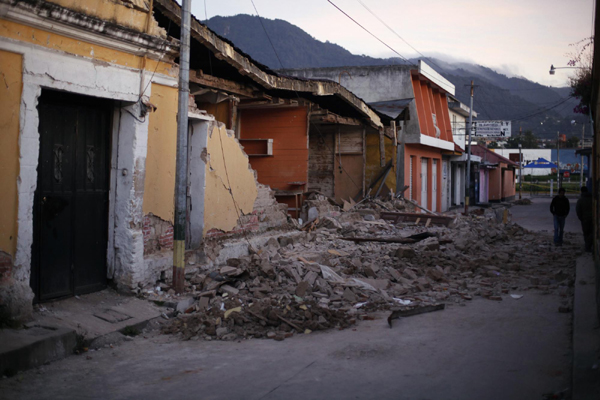 Two men walk past damaged houses after a 7.4-magnitude earthquake struck on Wednesday on the streets of San Marcos, in the San Marcos region, about 250 km south of Guatemala City, Nov 8, 2012. [Photo/Agencies]