Spending cuts, tax increases to take effect unless deal reached on deficit
US President Barack Obama returned to the White House on Wednesday emboldened by his stunning re-election and challenging his Republican opponents to work with him to avert a looming fiscal crisis.
The liberal euphoria that greeted Obama's landmark election defeat of Mitt Romney was short-lived as he immediately set about the daunting task of ending the partisan gridlock of a bitterly divided US Congress.
Before leaving Chicago, Obama was already on the phone trying to bridge the gap with Republican leaders to avoid a catastrophic "fiscal cliff" that could plunge the fragile US economy back into recession.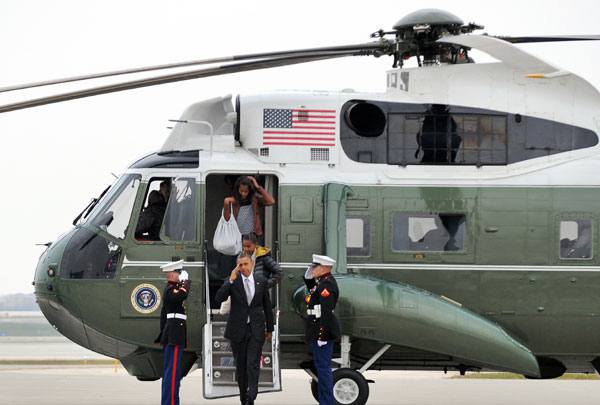 US President Barack Obama is followed by his daughters as he disembarks from Marine One to board Air Force One at Chicago O'Hare International Airport on Wednesday. JEWEL SAMAD / AGENCE FRANCE-PRESSE
A combination of dramatic spending cuts and tax increases will take effect on Jan 1 without a deal on reducing the ballooning budget deficit, with Democrats and Republicans in Congress locked in a who-blinks-first stand-off.
Obama called congressional leaders, sending out an overt message that his priority was to try to break the deadlock in the lame-duck session of Congress that precedes his Jan 21 inauguration ceremony.
He spoke to Republican House Speaker John Boehner and also telephoned the minority Republican leader in the Senate, Mitch McConnell, as well as top Democrats.
"The president reiterated his commitment to finding bipartisan solutions to reduce our deficit in a balanced way, cut taxes for middle class families and small businesses and create jobs," a White House official said.
Obama believes that by returning him to the Oval Office, US voters signaled to Washington that both parties must set aside partisan interests and put the economy first, the official said.
But Boehner offered little during a Wednesday news conference in which his opening gambit was an unpalatable short-term fix to the "fiscal cliff" that the president has repeatedly opposed.
Obama arrived back at the White House following his unexpectedly decisive victory, claiming almost all the states he won in his historic 2008 electoral college landslide.
A campaign official said on the flight that election night returns unfolded very close to what the Obama team had expected though there was surprise at how quickly US television networks called the race.
Key to victory was the "ground game" waged in battleground states.
In explaining the superiority of Obama's operation, the official mentioned a conversation he had with a top field director on Monday, in which he said a rival Republican had tweeted that Romney's team had knocked on 75,000 doors in the must-win state of Ohio the previous day.
Not to worry, the director said, "we knocked on 376,000".
Obama triumphed despite the highest unemployment rate of any US president since Franklin Roosevelt in 1936 and became only the second Democrat since then to win a second term — the other being his stalwart supporter Bill Clinton.
With Florida still totaling up the last remaining ballots after another embarrassing vote-counting debacle in the "Sunshine State," Obama had 303 electoral college votes, easily surpassing the 270 needed to win.
In a soaring victory speech, the 51-year-old president sought to revive the great hopes he stirred in 2008, promising "the best is yet to come" and hinting at a far-reaching agenda in his second term. But his in-tray is already overflowing with first-term plans thwarted by blanket Republican opposition, whether it be comprehensive immigration reform, education or a grand plan to rein in the troublesome deficit.
The big question for Obama is this: Will the Republicans be willing or can they be pressured to strike a meaningful deal that will avoid the prospect of a disastrous economic crunch forced by mandatory budget cuts?
"In the weeks ahead, I also look forward to sitting down with governor Romney to talk about where we can work together to move this country forward," the president told the country in his acceptance speech.