NEW YORK - A Bangladesh man was arrested Wednesday in a sting operation by US federal authorities for alleged plot to bomb the Federal Reserve bank in Lower Manhattan, New York City, media reports said.
The suspect, identified as Quazi Mohammad Rezwanual Ahsan Nafis, was captured while he was trying to detonate what he believed to be a 1,000-pound bomb in front of the Fed building on Liberty Street.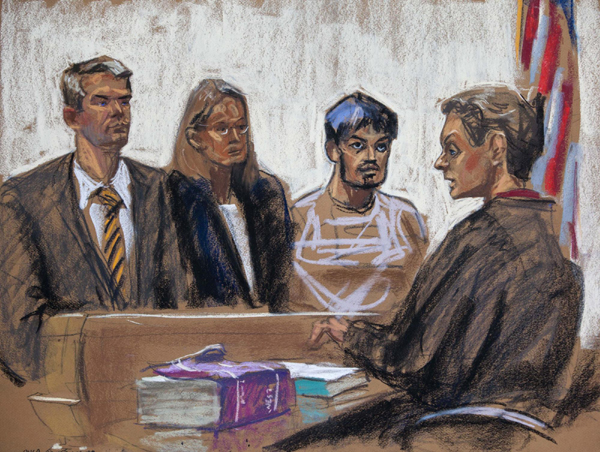 A courtroom sketch shows Quazi Mohammad Rezwanul Ahsan Nafis (2nd R) being arraigned in the United States District Court of the Eastern District of New York, Oct 17, 2012. [Photo/Agencies]
The authorities stressed that the public was never at actual risk during the operation.
According to media reports, Nafis, 21, arrived in the US on a student visa in January. He had tried to recruit people in the US to help him conduct the terror attack.
He had also discussed possible targets in an online forum with al-Qaida sympathizers, including senior US officials and the New York Stock Exchange.
Nafis got in contact in the forum with an undercover agent, who provided him purported explosive and drove with him in a van loaded with the fake bomb to the Fed building Wednesday morning. The two then walked to a nearby hotel, where Nafis tried to detonate the bomb with his cell phone, the reports said.  
New York City police commissioner Ray Kelly said in a statement that the city had recorded 15 plots since the 9/11 terrorist attack in 2011 before Nafis' attempt. He urged citizens to remain vigilant.
"After 11 years without a successful attack, it's understandable if the public becomes complacent," the police chief said.
Nafis appeared at a federal court in Brooklyn Wednesday to face charges of attempting to use a weapon of mass destruction and attempting to provide material support to al-Qaida. He was ordered held without bail.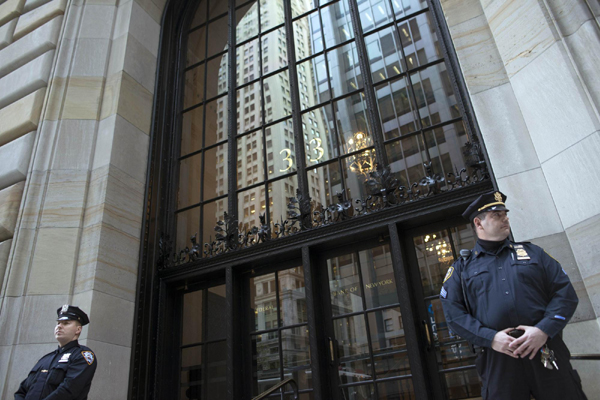 Federal Reserve and New York City Police officers stand guard in front of the New York Federal Reserve Building in New York, Oct 17, 2012. [Photo/Agencies]