Mitt Romney regained momentum in the first debate of the US election by aggressively standing up to Barack Obama, analysts said, but it remains to be seen how much he can budge the needle in the White House race.
Obama spoke longer during the 90-minute showdown in Denver on Wednesday, but the Republican challenger landed more blows against an often-subdued president in their first of three debates ahead of the Nov 6 vote.
"I don't think there's any doubt ... that Romney won," said G. Terry Madonna, director of the Center for Politics and Public Affairs at Franklin and Marshall College, who has monitored elections since 1960.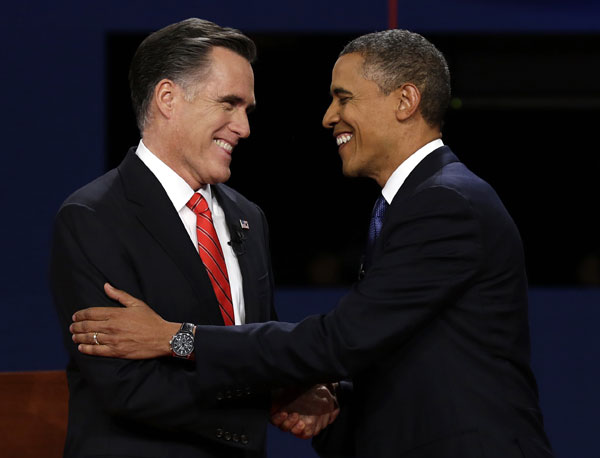 Republican presidential nominee Mitt Romney and President Barack Obama shake hands during the first presidential debate at the University of Denver, on Wednesday. Charlie Neibergall / Associated Press
Voters seemed to agree.
A flash poll conducted by CNN bore that out: adult viewers of the debate by a 67-25 percent margin said Romney won.
"The president certainly wasn't on the top of his game tonight," Madonna said.
Romney was more aggressive "without being pugnacious or provocative or combative", hitting the president on his economic record while steadily returning to the theme that a Romney presidency would create more jobs and stimulate faster economic growth than the current administration.
"Was it a huge victory? No. Did the president fall flat on his face? Of course not," Madonna said. "But what Romney had to do was get up on the stage, be the aggressor, make his points and instill a sense of confidence among Republicans that he can still win an election ... and I think he accomplished that."
Romney, a former governor of Massachusetts, is desperate to turn around poll numbers that show him trailing the president going into the home stretch.
From the beginning he challenged Obama on taxes and federal spending, insisting that the president's claim that Romney would bring $5.4 trillion in tax cuts geared towards the wealthy was "inaccurate".
"The president has a view very similar to the view he had when he ran four years ago, that a bigger government, spending more, taxing more, regulating more - if you will trickle-down government - would work," Romney said.
"That's not the right answer for America. I'll restore the vitality that gets America working again," he vowed. "Middle-income families are being crushed, and the question is, how to get them going again."
Obama seemed to shy away, adopting a far less confrontational tone than many of the attack ads his campaign has been running. "I think the American people have to ask themselves, is the reason that Governor Romney is keeping all these plans to replace secret because they are too good?"
"He didn't hit Romney very hard. He didn't bring up the 47 percent, for example," said Clyde Wilcox, a researcher at Georgetown University.
Romney's own campaign was quick out of the gate claiming the upper hand.
"If this was a boxing match, it would have been called an hour into the fight," said Romney political adviser Eric Fehrnstrom.
However, with the Nov 6 election little more than a month away, Romney is running out of time to seize the lead, and while debates are among the most memorable events of any presidential campaign, there is little evidence that they can change the outcome of an election.
AFP-Xinhua-Reuters