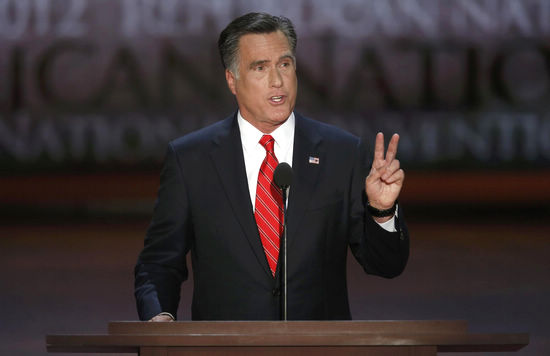 Republican presidential nominee Mitt Romney gestures as he accepts the nomination during the final session of the Republican National Convention in Tampa, Florida, August 30, 2012. [Photo/Agencies]
TAMPA, the United States - Former Massachusetts governor Mitt Romney on Thursday night accepted US Republican Party's nomination to run against President Barack Obama in the coming election.
At his prime-time speech delivered at the last day of the Republican National Convention, Romney blasted Obama by saying the president's "promises gave way to disappointment and division."
"Today the time has come for us to put the disappointments of the last four years behind us. Now it's the time to restore the promise of America," said Romney, urging voters to change course in the election.
Romney used the opportunity to lay out a five-point plan to create 12 million jobs in four years should he be elected.
"What America needs is jobs," said Romney.
He said he will take full advantage of US oil, coal, gas, nuclear and renewable resources to achieve energy independence by 2020; make sure education gives citizens "the skills they need for the jobs of today and the careers of tomorrow;" forge new trade agreements and make sure nations play fair.
Romney also said he will protect investment in the United States and cut deficit to put the nation on track to a balanced budget.
Lastly, he pledged to cut taxes and simplify regulations, rein in the "skyrocketing cost of healthcare by repealing and replacing Obamacare."
"I am running for president to help create a better future," said Romney. "A future where everyone who wants a job can find one. Where no senior fears for the security of their retirement. An America where every parent knows that their child will get an education that leads them to a good job and a bright horizon."
Romney also used the speech to tell his own story, saying "to make that choice, you need to know more about me and about where I will lead our country."
He continued to recount the history of his family, his tenure as Massachusetts governor, and the years he spent in the private equity firm Bain Capital, constantly a target for Democrats. Romney said Bain Capital is "a great American success story" that helped start some of the most well-known companies in the country.
He also devoted a sizable portion of the speech to his views that women are contributing greatly to the society and should be promoted to more senior positions. Polls have shown Obama has a big edge on Romney with female voters.
Romney's nomination was approved by the convention at a roll-call vote Tuesday. Before him, his wife Ann, running mate Paul Ryan have also made speeches to the convention on Tuesday and Wednesday. Actor Clint Eastwood showed up Thursday night as a surprise speaker.