NEW YORK - Social network company Facebook closed at $38.37 per share for its first trading day on the Nasdaq stock market on Friday, up 0.97 percent from its IPO price of 38 dollars.
Unlike the anticipation of many investors, Facebook's stock value did not gain much on its first trading day and barely held onto the issuing price of 38 dollars per share.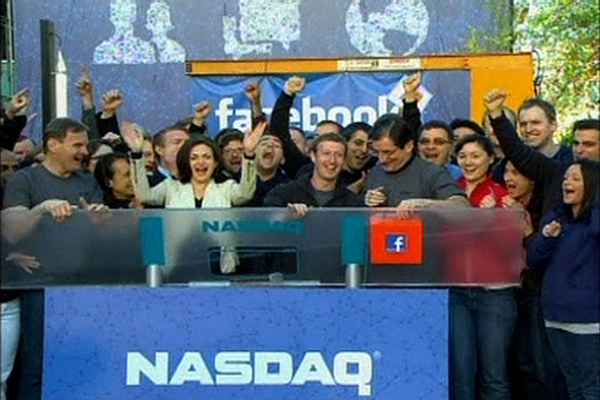 Facebook Founder and CEO Mark Zuckerberg, shown in this image from Reuters video, rings the NASDAQ Stock Market Opening Bell remotely from "Facebook" headquarters in Menlo Park, California, May18, 2012. [Photo/Agencies]
The stock's trading was scheduled to begin at 11 am, but was delayed due to some technical problems, with traders saying they were having trouble changing or canceling orders they had submitted. A total of 82 million shares changed hands during the first 30 seconds of trading.
Facebook co-founder and CEO Mark Zuckerberg rang Friday's opening bell for the New York-based NASDAQ market from Facebook's Silicon Valley campus.
The world's leading online social network issued 421 million shares on its initial public offering at $38 per share, raising more than $16 billion. It was the largest ever IPO for an Internet company.
Facebook earned $1 billion last year, most of which came from online advertising.
"Facebook's strategy has been diversifying their portfolio of revenues," Anindya Ghose, a professor at NYU's Stern School of Business told Xinhua. "Last year they got about 85 percent of their revenues from advertising, but they got the remaining 12 to 15 percent from social gaming. So their portfolio diversification strategy is going more and more to non-advertising options."
Facebook previously raised its IPO price range from $24 to $35 per share to 34 to $38, and increased its IPO size by 25 percent to 421 million shares. It eventually set its IPO price at $38 per share on Thursday, at the high end of the price range, which put the company value at $104 billion.