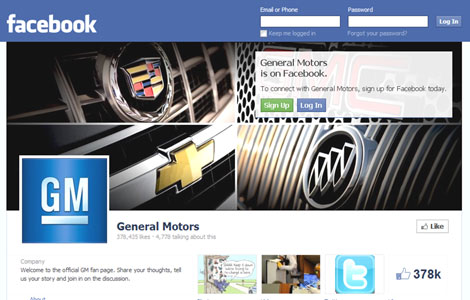 The fan page of General Motors Co on the Facebook Inc website. The automobile company said it plans to stop advertising on Facebook after deciding that its ads have had little influence on car buyers, The Wall Street Journal reported this week. [Photo / Agencies]
Web company hints at country for market expansion in prospectus
Friday will bring the biggest initial public offering of an Internet company ever when 421 million shares of Facebook Inc begin trading on the Nasdaq Stock Market in a sale expected to raise as much as $16 billion for the social-networking company.
That comes as concerns have arisen over Facebook's business model, which calls for the company to obtain most of its revenue from advertising. Some analysts now believe that Facebook's next move as it tries to obtain more revenue will be to enter China, where it doesn't now offer its product.
Facebook's original prospectus for its IPO, which was filed with the US Securities and Exchange Commission in February, mentions the word "China" nine times, indicating that "the country is under serious consideration as a new market for the social network", according to Jon Russell, Asia editor of NextWeb, a technology site.
"It's very likely that Facebook's goal is to expand very rapidly," said Jeffrey Barlow, director of the Berglund Center for Internet Studies at Pacific University in Oregon. "It is looking at China because it's the only field left open for them."
During a week-long "roadshow" held before the IPO, investors told Facebook management that they had concerns about the company's business model and prospects for expansion.
The most popular social-networking site in the world now receives 83 percent of its revenue from selling advertisements, according to eMarketer, a firm that researches digital marketing and media.
General Motors Co said it plans to stop advertising on Facebook after deciding that its ads have had little influence on car buyers, The Wall Street Journal reported this week.
In its IPO filing, Facebook acknowledged that its ad business may slow down as more and more computer users take to logging onto its site through mobile devices. The company's mobile products do not display advertising.
Even so, Facebook's ad revenue is projected to increase by more than 60 percent this year, rising to $5.06 billion. But eMarketer Inc projects that this side of Facebook's business will slow significantly in 2013 and 2014.
The long-term prospects of Facebook's model are coming under scrutiny. Through eight years of being online, the site has managed to attract 900 million users throughout the world. Each of them, though, only brought the company $1.21 on average in the first quarter of the year, Barlow pointed out.
Facebook's first-quarter revenue increased by 45 percent year-on-year to $1.06 billion but declined 6 percent from the fourth quarter of 2011. Its net income for the first quarter dropped by 12 percent, to $205 million, from $233 million in the same period last year.
It's not surprising that Facebook would want to enter China. The country offers the potential of "a great path of growth and new revenue" for the company, said Debbie Williamson, a social-media analyst at eMarketer.
The number of Internet users in China - 513 million - exceeds the entire US population. According to eMarketer estimates, 307 million Chinese are expected to use social networks this year.
The number of new people coming to social media has begun to increase at a slower pace in the US and other Western markets. Yet it continues to rise at a fast pace in China - some forecasts say it will go up by more than 19 percent this year and 2013.
A business model that depends so heavily on ad income might not succeed in China. Williamson said Chinese social networks obtain most of their revenue from users who pay to play games or access premium areas of their sites, not from advertising.
It's also unclear how Facebook will fare in China as competition is already steep in the country's social media market.
"China's Facebook-like sites, such as Renren, are actually under pressure themselves as Sina Weibo's micro-blogging site is more popular," Russell said.
Sina Weibo, the leading Chinese micro-blogging service, is sometimes called "the Chinese Twitter" but is actually more like Facebook, Sam Flemming, founder of the social media analytics firm CIC, told eMarketer.
If Facebook enters China, it would have to compete with the domestic micro-blogging sites Sina Weibo and Tencent Weibo, which each have more than 250 million registered members, as well as Renren and other networks.
But Russell said it's unclear what Facebook could offer that would be attractive specifically to Chinese users.
Isaac Mao, a prominent Chinese blogger and social media researcher, said Facebook will first have to find a niche market in China, saying it will be "very tough for any foreign player to learn the local rules".
In Barlow's view, Facebook could make things easier for itself by forming a partnership with a local company, which could also help it overcome linguistic and cultural barriers.
Rumors arose last year saying that Facebook had entered into talks with Baidu.com, China's top Web search engine, to start a Chinese social-networking site that was separate from Facebook.com.
Facebook's IPO has heightened the interest in China's social media market. On Wednesday, news outlets noted that shares of Renren had surged the most in a month, while the Internet bookstore e-Commerce Dangdang Inc hit a three-month high.
"Investors around the world are certainly more aware of China's social-networking sites," Barlow said. "It will be good for them (China's social media) to face competition from Facebook. That will push them to become more sophisticated."
atung@chinadailyusa.com