SEOUL - Republic of Korea (ROK) has added to its arsenal a cruise missile that can hit anywhere in the Democratic People's Republic of Korea (DRPK), the Defence Ministry announced on Thursday, a day after Pyongyang said it was ready to retaliate in the face of international condemnation over its failed rocket launch.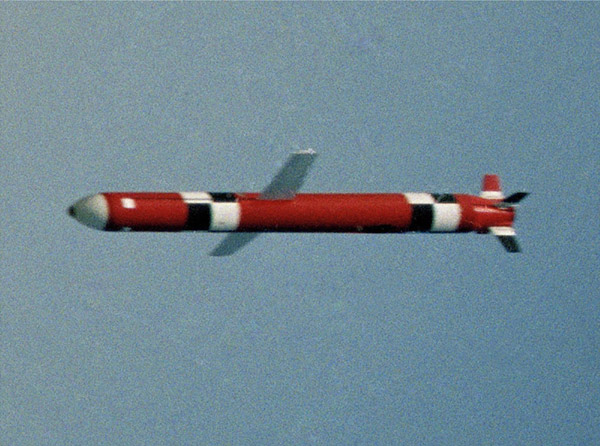 A cruise missile made by South Korea is seen after being launched during a test at an undisclosed location, in this picture released by ROK's defence ministry in Seoul April 19, 2012. [Photo/Agencies]
The DPRK is widely expected to follow a pattern it set in 2009 with a successive missile and nuclear test by detonating an atomic device in coming weeks, possibly a device using highly enriched uranium for the first time.
DRPK, technically still at war with the ROK after their 1950-53 conflict ended merely with a truce, has already declared as invalid a deal with Washington to let international inspectors back to its nuclear facilities in return for food aid.
"The (locally made cruise missile) has the capability to hit any facility or personnel in all areas of DPRK in whatever time frame as necessary," ROK's Defence Ministry officer for policy planning, Major General Shin Won-shik, said.
"We're making this public to underscore our commitment to respond to the North's missile threat and military provocation."
DRPK, which the South says has thousands of artillery pieces aimed at Seoul, admitted it had failed to accomplish its goal of putting a satellite into orbit with the launch on Friday.
The UN Security Council earlier this week condemned the launch as a violation of existing UN sanctions and warned of tough action if Pyongyang went ahead with more missile tests or a nuclear test.
DPRK, marking the 100th anniversary of founder Kim Il-sung, on Sunday put on a huge military parade, showcasing what ROK's Yonhap news agency said was a new long-range missile, presumed to be a ballistic missile with a range of up to 6,000 km (3,700 miles).