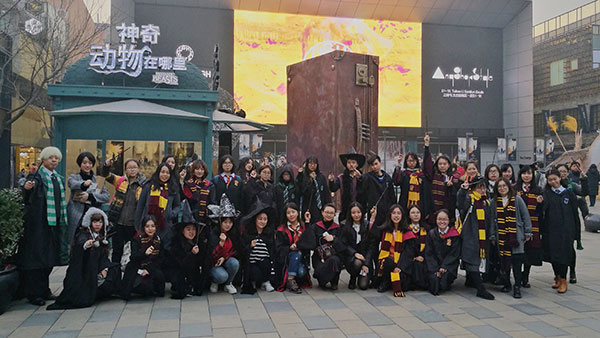 Fans gathered in Beijing to watch the movie Fantastic Beasts andWhere to Find Them.[Photo provided to China Daily]
"For me, it is a very precious memory. Although the character is fictional, I expressed sincere feeling in my poem that touched a lot of audiences."
Later, he often cosplayed Harry Potter with many other fans, especially after he went to Beijing. Some say he is the person in China who most looks like Harry Potter.
Lin is now a PhD student at Peking University and will graduate next year. As a student in the Chinese Department he wrote a paper on Harry Potter when he was a junior undergraduate student.
In nearly 40,000 characters he analyzed the reasons for the popularity of the novels worldwide, rejecting the view of many critics that Harry Potter books are children's books that are either too naive for adults or too dark for children, and digging out the deeper meaning behind the metaphor of the magic world Rowling created. Lin says Rowling's books have helped form his worldview.
With characters like crazy girl Luna and the twins Fred and George, the books have encouraged him to be himself regardless of what other people say, he says.
"Luna is my favorite character in the novels. She shows us that there are so many different kinds of people in the world. We should respect people who are different from us, embrace diversity and treat others fairly."
That worldview and ethos is shared by many Harry Potter aficionados, among them Yin Pingping, 29.
"After I finished reading The Casual Vacancy I was very much touched by Rowling's humanist spirit," she says.
"She is so consistently sincere with herself and readers. In the Harry Potter series she writes about discrimination against non-pureblooded witches and wizards, and the slavery of house elves. She expresses her opposition to racism, sexism and hierarchy through the stories in the magic world. And in The Casual Vacancy she expresses such ideas more directly."
Like many Harry Potter aficionados, Yin was immediately drawn into Rowling's magic world once she started reading her first book in the series.
In 2003, when cases of SARS (severe acute respiratory syndrome) were reported in Beijing, Yin was a first-grade high school student in the capital. Because of SARS schools were closed, so Yin spent six months studying at home and communicating with schoolmates on the school's bulletin board system.