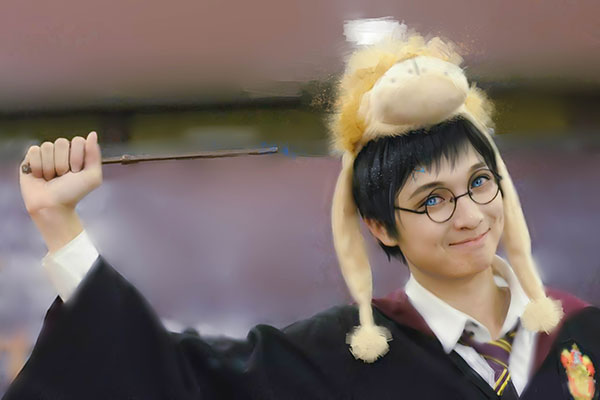 Lin Pin, a cosplayer and PhD student at Peking University.[Photo provided to China Daily]
Once they had secured their tickets, these die-hard Harry Potter fans chatted with one another and took photos.
One hundred and two fans from all walks of life attended the premiere that night. Some traveled from Tianjin especially for the party. This had been the third activity this year organized by the Room of Requirement, a society named after the room in Harry Potter novels, since it was started in February, when fans from all over China gathered in Shanghai for a memorial event for Alan Rickman, the British actor who played Professor Snape, and who died in January.
"It's amazing to make so many friends who love Harry Potter books," says Zhang Ruoxi, 26, one of the organizers of the activity. "It feels like a lot of witches and wizards hide among ordinary people and that when you raise your wand they will respond to you."
Zhang is an engineer, and the other Potter fans included an architect, a doctor, an editor, a student and a traffic police officer.
"When you put on the gown, no matter who you are or what you do, you are just one of us, equal and being cared for and loved as a Harry Potter fan," says Liu Zhujie, 18, another organizer of the activity. Liu, from Shanghai, started university in Beijing recently.
It is difficult to say how many Harry Potter fans there are in China, but since 2000, when the Chinese version of the first Harry Potter book came out, nearly 20 million copies of the series have been sold. When the last book of the series Harry Potter and the Deathly Hallows was published nine years ago, there were 1 million copies in the first print run of the Chinese version.