Harry Potter spinoff Fantastic Beasts seeks to cast its spell on China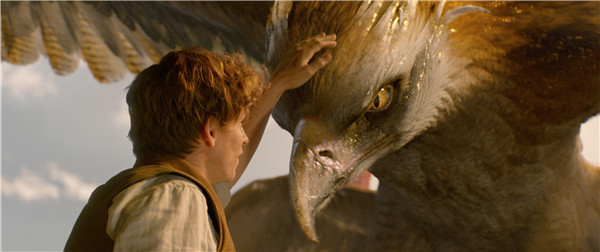 Eddie Redmayne, the youngest-ever Oscar winner, plays the protagonist in the new film, Fantastic Beasts and Where to Find Them. [Photo provided to China Daily]
Harry Potter's magical world never seemed so close to China as it does today.
Fantastic Beasts and Where to Find Them, a spinoff from the film franchise, will hit the mainland on Friday, a week after its British opening.
The trailers for China have received millions of "clicks" online, and Eddie Redmayne and Katherine Waterston, the lead stars, made news last week during their promotional tour in Beijing.
David Yates, the new film's director and also the director of the last four Harry Potter films, said at a Beijing event on Nov 18 that a magical creature from China will show up in the sequel of Fantastic Beasts and Where to Find Them. A total of five installments have been planned in this film series.
From his point of view, the upcoming film is a "fresh start" for J.K. Rowling, who for the first time has worked as the scriptwriter for a film based on her famous book series.
"It's very important for her to extend (the magical) world with new characters, to make everything feel fresher and different," Yates says.
"She's creating characters that are brand new, just as much fun, just as much meaningful, as the characters she created in Harry Potter," he adds.
The film is adapted from a namesake book, originally published by Rowling in 2001. But this time, she has developed the story for the big screen.
While the storyline of the film has been newly created, it is set in the 1920s, 70 years before Harry Potter's time. It is not a prequel or sequel but an expansion of the same magical world.