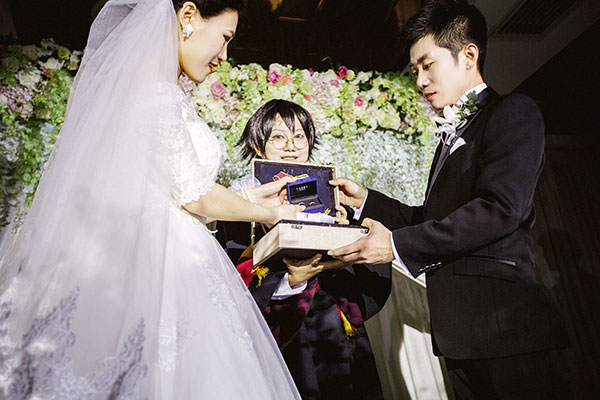 27-year-old Li Yilin had a Harry Potter cosplayer carry the rings at her wedding in November, 2015.[Photo provided to China Daily]
Nearly 20 years after Harry Potter first cast his spell on the world,many Chinese are still in his thrall
Late in the night in Beijing on Nov 24, as the temperature continued to fall to its forecast minus 5, and as the usual din in the streets of the city's Sanlitun Village began to abate, an unusual scene began to unfold. Every now and again strange figures in twos and threes strolled into the village square, in the middle of which was a giant brown suitcase in front of a billboard for the Hollywood movie Fantastic Beasts and Where to Find Them.
Almost all these people wore black gowns, striped scarves of scarlet and gold, green and silver, yellow and black or blue and bronze, and ties in the same matching patterns. Some wore carrot-shaped earrings, Harry Potter Deathly Hallows necklace, or silver badges with the legend Head Boy or Head Girl, and tucked inside their bulky sleeves or bags were exquisite wands.
The square was soon abuzz with their chatter, and they eventually headed for the warmer confines of an underground cinema, the Megabox, where they lined up to get preordered tickets for Fantastic Beasts and Where to Find Them from a group that calls itself the Room of Requirement. The film premiered in the Chinese mainland after midnight.