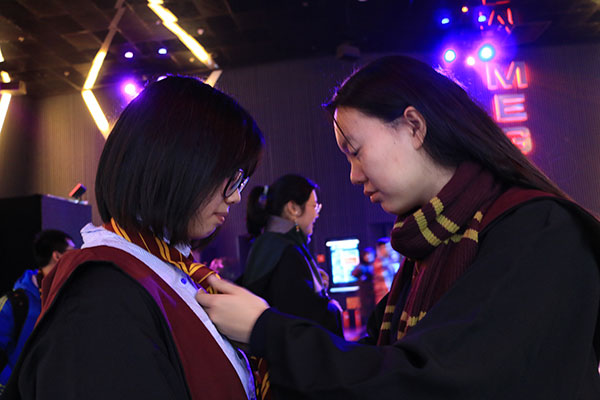 Harry Potter fans help each other to adjust their fittings.[Photo provided to China Daily]
The Chinese version of Harry Potter and the Cursed Child was published on Oct 29, and since then the entire 300,000 copies have sold out, and the publisher is printing more.
JK Rowling's Harry Potter novels have played a significant role in the lives of many Chinese readers, especially those of the only-child generations. Not only did they grow up with the characters Harry, Ron and Hermione, but they have also formed great friendships as a result of a shared enthusiasm.
One of the most outlandish things that Lin Pin, now 28, has done relating to Harry Potter was in 2003 when he started high school in Fujian province.
Lin harbored a very special feeling for Harry Potter because when he was attending middle school a close family member of his died, reflecting the experience of Harry, both of whose parents died when he was an infant.
"Rowling's stories gave me very important comfort and accompanied me as I went through pain and sadness," Lin says.
In the summer of 2003Harry Potter and the Order of Phoenix was published. In order to read the story as early as possible, Lin went online for the first time in his life to buy his first English novel, and he devoured it no time. In the book, his favorite adult character Sirius Black, Harry's godfather, dies, and Lin was so saddened by this that he wrote a poem in memory of him.
At high school, Lin took part in a poetry recital contest. All the other students chose well-known classic poems but Lin recited the poem he wrote for Sirius Black. Not only that, but he bought a gown online and dressed like Harry Potter, and stepped onto the stage that way.
"It was the first time that I cosplayed Harry," Lin says. "It was also the first time that anyone had done cosplay in our county."
Lin says the sincerity in his poem touched many audiences, no matter whether they had read the books or not.
But his antics were offbeat particularly because many teachers and students at the time knew nothing of the stories let alone the fictional character Sirius Black.