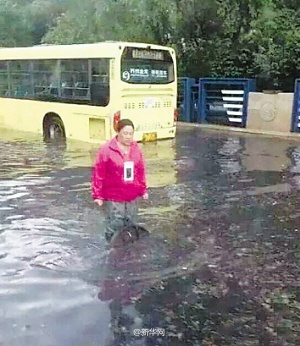 Xun Xiaohong is pictured standing by a manhole on a street in Harbin, capital city of Northeast China's Heilongjiang province, June 12, 2016. [Photo/Xinhua]
One can get caught off guard by sudden summer showers. And when it pours down onto a city, problems and dangers might loom on the street.

The photo of a woman standing in knee-high water by a manhole on a flooded street on Sunday has become an Internet sensation, with netizens praising her as "the most beautiful lotus in the rain", Xinhua News reported.
The Sunday rainstorm was "rapid and heavy". For two straight hours, Xun Xiaohong, a staffer with Harbin Drainage Group in Northeast China's Heilongjiang province, stood at a low point in the junction of a road where the water at its highest point reached her waist, the report said.
Donned in bright colored clothes, Xun said she wanted to warn drivers of the dangers on the inundated street.
"I had to lift the sewer cover to let the flooding water go down," Xun explained. Fearing it would be overturned by the rushing water, she anchored the lid between her legs.
Xun's efforts on Sunday lasted for 8 hours. When she finally came home, she saw her photo online.

"It has taken me by surprise. But when it rains it is like my order. It's just my routine work to help drain off water in the rain," Xun said with a smile.