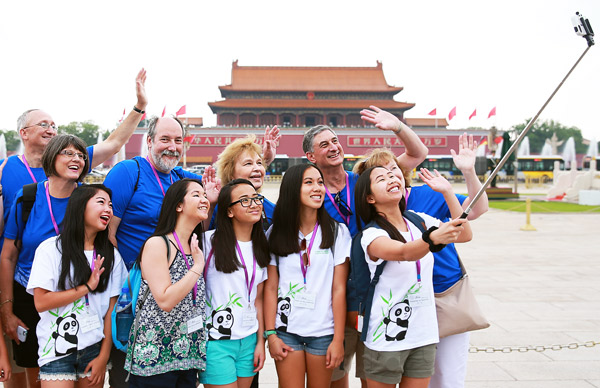 Adopted Chinese youngsters and their family members take a selfie during a visit to Tian'anmen Square in Beijing on Tuesday. Zou Hong / China Daily
More than 90 Chinese youngsters, accompanied by their adoptive families from the United States, began an exploration tour in Beijing on Tuesday to locate their birthplaces.
Wearing T-shirts with giant panda and bamboo cartoon images, most of them were returning to China for the first time.
In coming days, they will review their adoption files, take traditional Chinese cultural classes, return to the orphanages where they lived before being adopted and travel to tourist destinations, including Chengdu in Sichuan province.
The heritage tours have been organized by the China Center for Children's Welfare and Adoption since 2006. They are aimed at helping Chinese adoptees living overseas to understand how they were adopted, recapture their childhood, and learn more about traditional Chinese culture.
More than 4,000 Chinese adoptees have been invited to visit the country since 2006.
Li Liguo, the minister of civil affairs, said in a welcoming speech that the Chinese government pays great attention to children's interests and rights, and has sought the most suitable adoptive families worldwide for Chinese orphans.
"Adoptions are not the end of our work, but an extension of it," Li said. "We are pleased to see the children are happy and healthy, and we want to express our gratitude to the adoptive parents."
The United States tops the list of countries where Chinese orphans have been adopted.