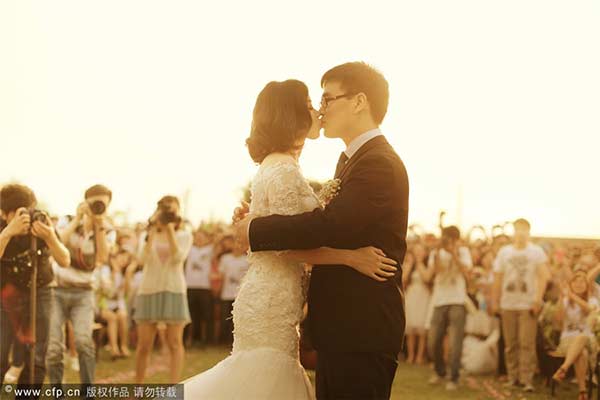 A wedding takes place on the campus of Zhengzhou Institute of Aeronautical Industry Management, June 1, 2013. [Photo/IC]
More than sixty percent of 1,302 college students interviewed in a recent survey say they accept student couples' public displays of affection (PDA), according to a new report on China Youth Daily on Monday.
The PDAs that won "best tolerance" included sweet talks, holding hands, hugging and quick kisses, while French kisses and physical strokes received cold shoulders from both students and their parents.
Holding hands had the highest acceptance rate, with more than 96 per cent of interviewed students and parents giving it the thumbs up.
Compared with students, parents have lower acceptance on almost each form of students' PDA, except hand holding.
Only about 38 per cent of interviewed parents thought hugging between student couples in public was okay, while about 80 per cent of students accepted the behaviour.
A fifth of parents believe quick kisses in public is tolerable, but more than 63 per cent of students think it's fine.
According to the report, it is common among college students to display affection in public.
One of the college students interviewed, who wouldn't reveal her name, said she felt like holding her boyfriend's hand forever, because she is love struck.
Another student, who just graduated from college, said PDAs were not a performance but a natural emotional gesture.
"I have a long-distance relationship so it's precious time for me to spend time with him," she said, "when we parted in bus station, we can't help kissing."
Luo Xuelei, an instructor in a Fujian province college, believes it's normal to see affection displayed in public, but it has to be limited.
Many parents show low tolerance for PDAs among student couples. They think holding hands is enough, arguing kissing and hugging are too much to see and hard to accept.
Diao Yuquan, a lecturer from Zhejiang Sci-tech University, said private actions like PDAs were not from Chinese traditional culture, but imported from foreign countries.
Yuan Xin, a psychological professor in Nankai University said PDAs suggest society is now quite open.
Yuan said students lacked education to know what the expected boundaries were in private life and public actions.
"It's important to know what behaviors are suitable for the right situations. It's called respect for others and the society," Yuan said.