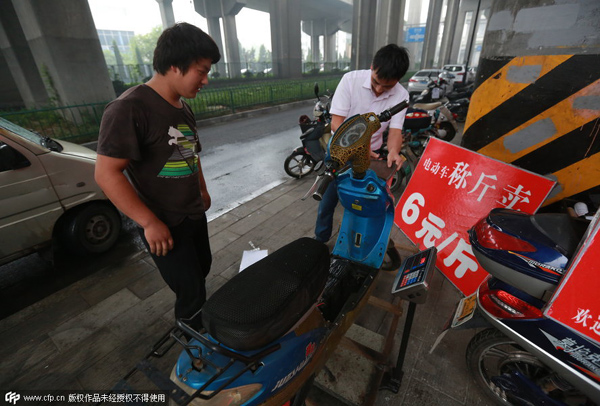 The owner of an electric bicycle repair shop is selling second hand electric bicycles by their weight, in Zhejiang, on Tuesday. [Photo/CFP]
Vehicles sold by weight
A man, surnamed Liu, in East China's Zhejiang is selling second hand electric bicycles the way people sell fruits –by weight, at 12 yuan per kilogram.
His shop repairs electric bicycles, and trades new ones for old ones, and he has collected more than 100 old vehicles. To clear his storage space, he came up with this method to sell the vehicles as quickly as possible. An average vehicle costs 600 yuan when priced this way.
"For the better, newer ones, I sell them at 18 yuan per kilogram. We checked them before selling them, and provide repair service for our buyers," the owner said.