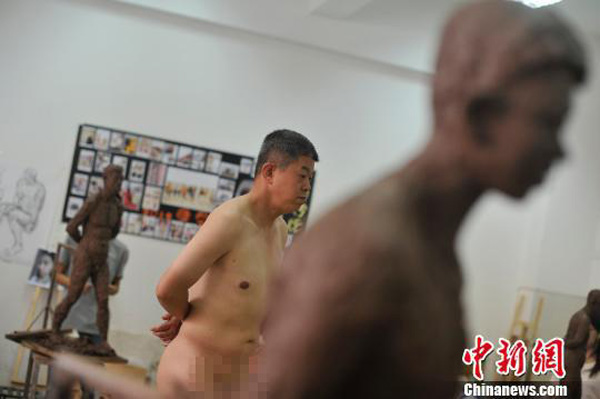 Li Zhe poses at Shanxi University Academy of Fine Arts in this undated photo. [Photo/Chinanews.com]
Supporting his family through nude modeling
In most parts of China, people still shun nude modeling out of conservatism. However, in order to make a living, a man from North China's Shanxi province has been doing nude modeling for 14 years.
Because he sustained brain damage at a young age, Li Zhe cannot handle complicated work. After the factory he worked for closed down in 1997, he began working as a clothes model.
Later, he got married, had a daughter, divorced, and his mother got breast cancer. To earn more money, he turned to nude modeling, which pays more.
Posing at an art college earns him around 50 yuan ($8) per hour, and 200 yuan for a whole morning, while posing at private training classes for students preparing for the national college entrance exam only pays 10 yuan per hour.
His mother said she seldom talks about his occupation, fearing controversy. Li said most of his colleagues are poor elderly people or those who are unable to work in other capacities, and they never reveal what they do to the public.
Li said he is proud that his job enables him to pay for his daughter's interests, like piano class and painting class. He said he has been very hard working, that he once stood for four hours without changing his position, although the hot geothermal heating almost burned his feet.
In our next story, man sells electric bikes like fruit – by weight.