In today's trending, taxi company offers helicopter service, two students electrocuted, controversial online celebrity hits headlines again, teacher uses foul language in test paper, Jackie Chan denies his own death.
Forget taxi, hail a helicopter
People who want to have the experience of helicopter hailing can try the service offered by a ride-hailing app operated by the merged taxi-hailing company Didi Kuaidi Dache. Though operating only two routes, the APEC air travel and Beijing-Tianjin route, the company has received bookings from over 1,000 customers in just one day since May 14.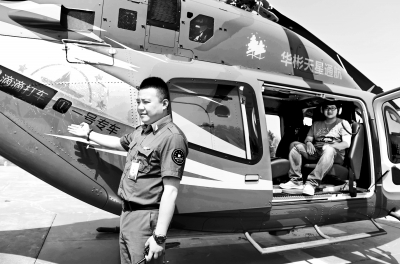 An air crew stands by a helicopter providing hailing service on May 15, 2015. [Photo/xinhuanet.com]
"Our clients are mostly mobile Internet users in 20-40 age bracket," according to a person in charge. The APEC air travel costs 1,999 yuan ($322) per person and the Beijing-Tianjin route 3,500 yuan ($564).
The service is only available from May 15 to May 17 and client needs to book one day in advance.
It's the firs service of its kind in Beijing after Shanghai offered a similar one last month which was later shelved.
Next up: Two students electrocuted in Jiangxi province.