Seven arrested for real estate violations in Xiongan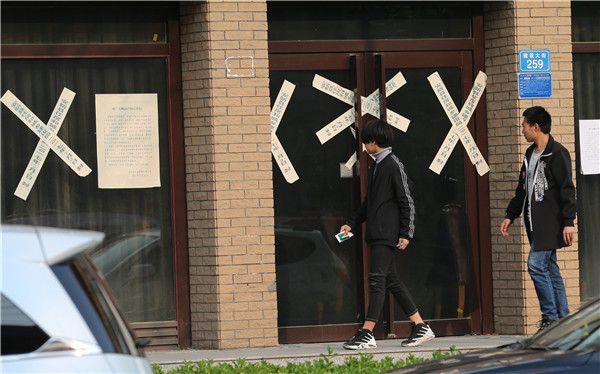 The trade and construction of houses in Xiongan New Area have been banned to stablize housing prices. [Photo by Wang Zhuangfei/ China Daily]
Seven people have been arrested for real estate violations in the recently announced Xiongan New Area, sending strong signals to investors that the government intends to fend off risks from distortions in the property market, according to analysts.
The preparatory committee for Xiongan New Area, a transitional group founded on Saturday, has discovered 765 cases of real estate violations and shut down 71 sales offices, according to an announcement it made on Wednesday.
The announcement came after homebuyers flooded into the quiet, less developed area in Hebei province over a couple of days after the central government announced on Saturday its decision to choose three counties-Xiongxian, Rongcheng and Anxin-as the location of the new area to solve pollution and congestion problems in the capital.
The local government issued an order on Saturday banning all house sales in the area.
"The area will implement the most stringent control of the real estate sector," Zhao Kezhi, party chief of Hebei province, said on Tuesday."Punishing illegal activities in accordance with laws and exposing these cases to the public in a timely manner will help to warn others," Zhao said.
A homeowner in Xiongan, surnamed Wang, said a potential buyer, a retired woman from Beijing, hesitated to purchase her house after the announcement.
Wang bought the 160-square-meter house for 5,700 yuan ($840) per square meter six years ago, but she hopes to sell the house for 30,000 yuan per square meter.
"The recent property frenzy in Xiongan is apparently not supported by people who are willing to make long-term investments to help drive regional growth," said Yan Yuejin, a senior researcher at E-house China R&D Institute.
Yan expects the government to expand controls to more areas in the real estate sector in the near future, including selling and purchasing rural homestead land, because there are still many speculators betting on price surges when local policies for land sales have yet to be introduced.
Looking ahead, punishment and strict controls would not put things right once and for all, according to Wu Hequan, deputy head of the expert advisory committee on the collaborative development of Beijing, Tianjin and Hebei under the State Council.
"The local government needs to find ways that would work in the long run to make housing affordable for talented people," Wu said.