Temple puts resting place on sale, woman destroys ATM, cab driver gives free ride, and boy receives Medvedev's autograph.
Take me to prison, robber tells police
A man surnamed Long told police that he had robbed two shops in Deyang city because he wanted to go to jail to escape the fights between his former wife and girlfriend. The 29-year-old was arrested after asking sales staff at one of the outlets to call the police, Chengdu Business News reported.
Related:
Quick thinking by woman helps police catch robbers

Admirer of Russian leader receives idol's autograph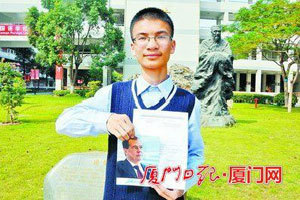 A middle school student in Xiamen in East China's Fujian province received the autograph from Russian Prime Minister Medvedev after the boy wrote a letter to his idol, reported Xiamen Daily.
When asked why he wrote to the Russian leader, the boy called Chen Ledong said he was curious to understand how some become great while others end up as common people. The boy also said he admired Medvedev rather than Russian President Putin because he is modest.
Related:
Russian PM Medvedev visits Crimea

Woman takes apart ATM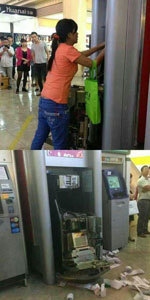 A middle-aged woman broke a cash machine with her bare hands after failing to withdraw her card from it, reported southcn.com.
The woman, who is reportedly suffering from a mental disorder, was seen destroying the ATM and then leaving it in a mess at a shopping mall in Dongguan in South China's Guangdong province on Monday afternoon.
Related:
A young woman's tale of two cities

Temple puts resting place on sale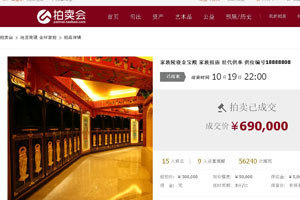 A temple in Shaoxing of East China's Zhejiang province has sparked controversy for putting the memorial tablets for the deceased in its mausoleum on sale, reported thepaper.com on Monday.
The advertisement on online shopping website TaoBao states: "Here we give you a resting place neighboring the Buddha." One of the seats for memorial tablet was sold at 690,000 yuan ($112,681).
Related:
Temple, govt at odds over ticket profit

Cab driver gives disabled man free ride for 2 yrs
Ran is a cab driver in Fengdu county of Chongqing municipality. He has been giving free ride to a disabled man for the past two years, reported Chongqing Evening News.
42-year-old Xu lost his legs as a child and survives on polishing shoes after his parents died. He met the cab driver the first time in early 2012 when he was hailing a taxi but all drivers ignored him. Ran stopped to take the shoe polisher to the working place, and it became a daily routine for him ever since.
Related: