Zhejiang man 'kidnaps' himself, compensation win for woman sacked for getting pregnant and dancing elders aid bag-snatching victim.
Men sentenced for bride-smuggling
Five people were imprisoned for smuggling women from Vietnam and selling them to Chinese bachelors, Zhejiang-based Today Morning Express reported.
The gang began taking single men from Taizhou of Zhejiang province to Yunnan in 2011 to date women they claimed were ethnic Miao in the presence of their "parents". But, the brides-to-be turned out to have been abducted from Vietnam.
They earned more than 300,000 yuan ($48,985) from the matchmaking service for which they were sentenced to between six and 12 years in prison.
Related:
Vietnam, China holds meeting on cooperation in drug prevention

Dancing dama help capture robbers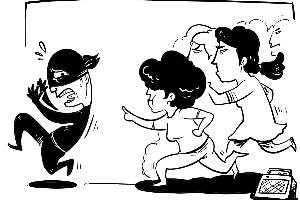 Two Xuzhou college students were stopped by dozens of old women who had been dancing in a square after the students robbed a young woman of her handbag, Modern Express reported. After the woman called for help, the dancers blocked the entrances of two buildings where the students hid until police arrived and detained them.
 Related:
Facekinis getting global attention

Fugitive caught in Ebola-hit Nigeria
A suspect from Qingdao in East China's Shandong province was arrested by Chinese police in Ebola-hit Nigeria, the Beijing Times reported.
Police detained the fugitive, charged with illegal fund-raising, who had fled to the West African country in 2006 despite threats from the Ebola virus and armed robbers.
Related:
Fugitive ends life on the lam

Hostage and kidnapper the same person
A hostage was found to be the kidnapper in an abduction case in East China's Zhejiang province, jlwb.njnews.cn reported.
A man from Yiwu in Zhejiang province disappeared after leaving his home. Police received a text from the man's phone on Oct 9 saying he had been abducted and a ransom of 100,000 yuan ($16,329) was required to free him. Police traced the man to a hotel, but a video recording showed no sign of abduction which raised doubts.
It was later discovered that the man plotted the "kidnapping" himself after spending all his money. He is expected to be punished for raising a false alarm.
Related:
27 Chinese among hostages freed in Cameroon

Pregnant probationer wins case
An employer who fired a woman for getting pregnant during her probation period has been ordered to pay 87,000 yuan ($14,200) in compensation, the Beijing Times reported.
The woman became pregnant shortly after starting work at an IT company in July 2012. She was fired a few days after telling her boss. She applied for labor arbitration and requested that the company pay her subsidies. Her claim was upheld.
Related: