A student commits suicide after adding 300 points to his college exam, Beijing hucksters busted for scam, and Crazy English founder takes his act to Shaolin Temple.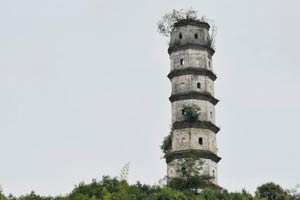 'Half pagoda' stands for centuries
A pagoda in Jiangxi province, known for having only half of its tower above the third storey, was found to have been standing for centuries, according to Chinanews.com.
The seven-storey pagoda was built in the Ming Dynasty and it is unknown when the top storeys collapsed. Because of its odd shape, it was dubbed "Half pagoda" by local residents.
Related: Trending: 'Strong-willed pagoda' takes the last stand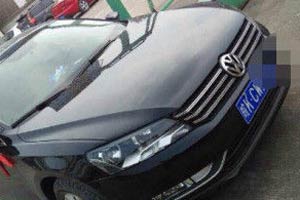 Train driver fined for driving car
A man who got caught driving a car poorly in Fuyang city, Anhui province, turned out to be a licensed train driver, Anhui TV reported on Sunday.
A car was found driving in a stop-and-go fashion on the road and a policeman stopped it to find the driver was holding a train license. The man was fined 1,000 yuan ($163).
Related: Calm driver waits on top of sinking car for help

Student commits suicide after parents know his scores
An 18-year-old student in Sichuan province committed suicide by jumping from a 200-meter-high cliff after his parents learned he only got 170 in the college entrance examination instead of the 470 score he previously told them, Chengdu Economic Daily reported on Monday.
The suicide victim was a left-behind child from a small village. His parents were remorseful they didn't pay attention to their son's problems. The boy had expressed loneliness and despair on social media.
Related: Advice to students who fail gaokao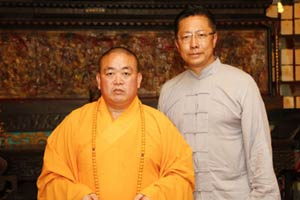 Li Yang promotes Crazy Chinese
The founder of Crazy English, a language learning method and organization, Li Yang,plans to promote Crazy Chinese to foreign learners at the price of 30 yuan ($5) for each Chinese character, Beijing News reported on Monday.
Insiders say the Li's business cooperation with the temple is still in the early phase.
In July 2014, Li converted to Buddhism in Shaolin Temple following a domestic violence scandal.
Related: Online jeers as Crazy English guru joins Shaolin Temple

Villagers hustle toll charges
Villagers were earning more than 3,000 yuan ($488) per day by collecting tolls at a scenic spot in Beijing without permission, Beijing News reported on Monday.
Two men from Erdu village, part of the Shi Du Scenic Spot, charged each car 10 yuan to enter. They claimed they used the money to construct a driveway from the main road to a riverbank. They were foiled when a tourist pointed out the spot was free.
Related: Man tries to swindle charitable donation

Divorce applicants face quota restriction
The civil affairs bureau of Chang'an district of Xi'an has a quota of only 10 to 15 divorce applications a day, aiming to avoid hasty divorces, China National Radio reported. This policy was introduced on March 2012. It was expected to give applicants more time to consider their action before they sign the paper. Divorces in the district dropped more than 140 in 2012, another 40 in 2013.
Related: 1992 divorce repeated for new marriage

Cloud-seeding shell lands in farmer's house
A farmer found a dud cloud-seeding shell in her daughter's bedroom, Western China Metropolis Daily reported. Kang Xingrong, from Laodong town, Lezhi county, heard a loud sound on the roof of her house on Friday afternoon. But she didn't pay much attention to it. She then found the shell on Saturday morning in her daughter's room. There was a 1-meter hole in the roof, she said. Local authorities are investigating the incident.