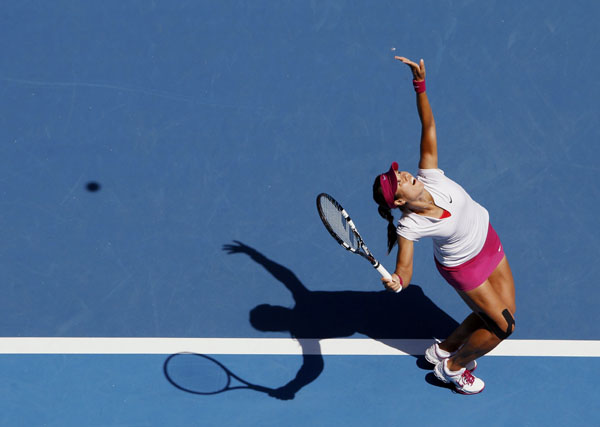 Li Na of China serves to Lucie Safarova of the Czech Republic during their women's singles match at the Australian Open 2014 tennis tournament in Melbourne January 17, 2014. [Photo/Agencies]
MELBOURNE - A few centimetres was all that stood between Li Na and an early exit at the Australian Open on Friday, as the fourth seed saved a match point before beating Czech Lucie Safarova 1-6 7-6(2) 6-3 in their third round encounter.
Li, a finalist at Melbourne Park in 2011, thought she was beaten when left-hander Safarova struck a backhand down the line on match point in the second set.
But the ball was called out and even though Safarova challenged, the replay showed it was just a few centimetres long.
From there Li cut down on her mistakes, took the tiebreak 7-2 and then eased through the decider to take her place in the last 16.
"I think the five centimetres saved my tournament," Li said after another long match played in temperatures over 40 degrees Celsius. "If she had hit it in ... the whole team (would have been) on the way to the airport.
"At least I won the match, so I am still in the tournament.
"I was really happy the way I fought on the court from first point until the last point."
It was a challenge Li did not make that affected her hopes of reaching the semi-finals at Wimbledon last year, when her serve on set point in the opening set was called out, but shown to be in on the replay.
The former French Open champion said she would not be making the same mistake again.
"Now, if I have chance, I always challenge," she said.
"Doesn't matter right or wrong. If I was challenging in Wimbledon, maybe I win the set and maybe (the title)."
In searing heat, Li was outplayed in the first set as Safarova struck a series of winners but once she had took the tiebreak to level, there only looked like being one winner.
The fourth seed now plays Ekaterina Makarova, a Russian left-hander who has reached the quarter-finals in each of the past two years.
"At least today I was playing against a lefty so I can be used to her serve a little bit because lefty is totally different than right hand," she said.
Li said she was looking forward to the predicted cooling down in temperatures expected to sweep Melbourne over the next 24 hours.
"Today is the last warm day, so we are happy, not only myself, but everyone will be happy," she said.
"Starting tomorrow it is a little bit cool down. At least I'm still in the tournament so I can enjoy the cool day."