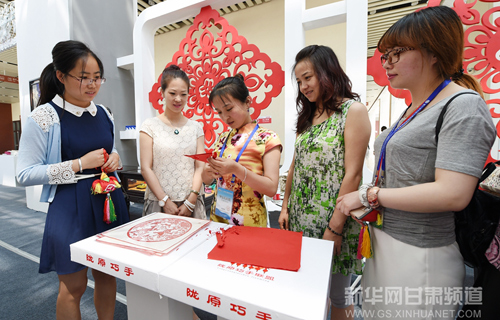 Jin Aiqin (middle), a master-hand in handcraft displays exquisite paper-cut art at the 21st Lanzhou Investment and Trade Fair. [Photo/xinhuanet.com]
An alliance composed of skilled women excellent at making handcrafts was officially formed in Northwest China's Gansu province on July 6, to promote the handmade industry.
According to the Gansu Women's Federation, the organizer of the alliance, the new league will provide a platform for women who are skilled at making handmade products to collaborate. It is hoped that this will help them enhance the process of making and selling products and expand their market channels. The alliance is expected to speed up the development of the handcraft industry.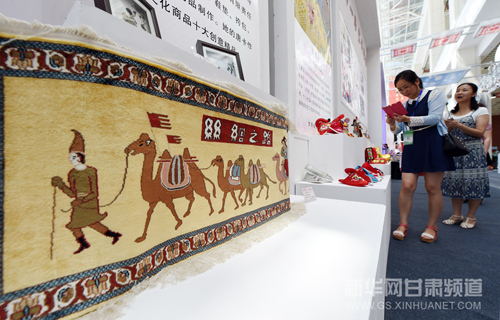 A carpet featuring aspects of the Silk Road is displayed at the exhibition area of the Gansu alliance of handmade dab hands at the 21st Lanzhou Investment and Trade Fair in Gansu on July 6-11. The carpet is made by skilled women from Gansu. [Photo/xinhuanet.com]
Gansu seeks to make handcraft industry a new economic growth point and a way to alleviate poverty. The provincial government will allocate 10 million yuan ($1.61 million) of fund in 2015 to train more than 100,000 women in making handcrafts. One hundred demonstration bases featuring in handcrafts production will be established from 2015 to 2017. The bases will foster around 700 produce brokers and train 140,000 skilled women.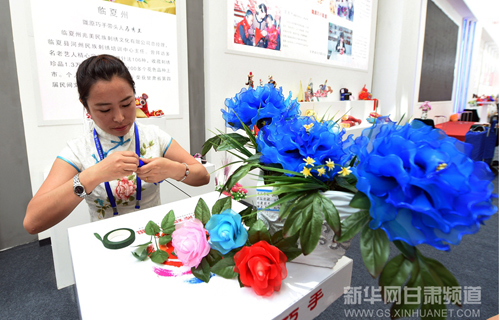 Ma Hongyan, skilled in the art of weaving handmade flowers with silk, works at exhibition stand at the 21st Lanzhou Investment and Trade Fair held in Gansu on July 6. [Photo/xinhuanet.com]
Edited by Jacob Hooson