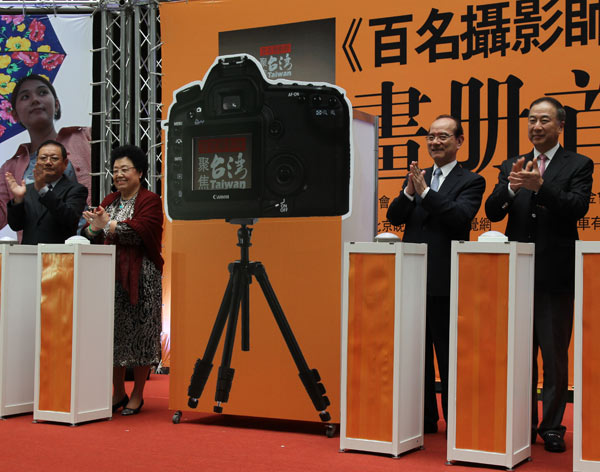 (From right) Zhu Ling, publisher of China Daily, Lin Feng-cheng, vice-chairman of the Kuomintang, Chan Laiwa, founder of Beijing Red Sandalwood Cultural Foundation and Hsu Li-min, a board member of Dongfeng Yulon Motor Co, declare the launch of One Hundred Photographers' Lenses on Taiwan, a photo album that brought together photojournalists from across the Taiwan Straits, in Taipei on Sunday. [Photo by Lu Zhongqiu/China Daily]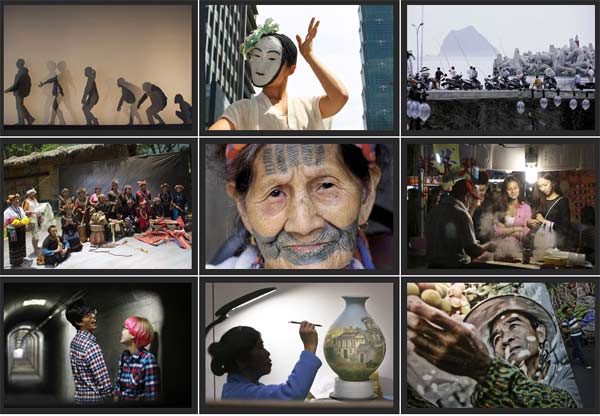 Photos from the album 
The unveiling of a photo album on Taiwan brought together photojournalists from across the Taiwan Straits and "moved the psychological distance of the people on both sides closer", participants said during the event on Sunday.
The ceremony in Taipei City Hall marking the launch of One Hundred Photographers' Lenses on Taiwan was attended by dignitaries from Taiwan and the Chinese mainland.
"This is valuable to the promotion of culture between the two sides and the mutual understanding of the people. It has also enhanced the friendship among the collaborators," said Zhu Ling, publisher of China Daily, one of the organizers of the project.
Lin Feng-cheng, vice-chairman of the Kuomintang, said that "the images of Taiwan local culture were fully captured and give expression to truth, kindness and beauty, which are shared by compatriots on both sides of the Straits".
"Cross-Straits relations have reached a new height and this kind of activity will make all Chinese shine on the international stage," Lin said.
"This is one more fruit of cultural collaboration," said Chi Chungsui, director of the Beijing Red Sandalwood Cultural Foundation, a co-organizer of the event. "We share the same language and the same culture. This is the blossoming of our common roots."
Hsu Li-min, a board member of Dongfeng Yulon Motor Co, expressed his confidence that the links between the two sides will be stronger through this kind of peaceful exchange, "contributing to the better understanding of each other".
Zhu and Lin presented Chan Laiwa, founder of Beijing Red Sandalwood Cultural Foundation, and Hsu with certificates of appreciation for the sponsorship of their organizations.
The four of them, together with Huang Rong-feng, deputy secretary-general of the Taipei municipality, pushed down the shutter to officially open the exhibition that accompanied the launch of the photography collection.
More than a dozen of the mainland's best photographers attended and will embark on a field trip in Taiwan to chronicle the beauty and vibrancy of the island with their cameras.
raymondzhou@chinadaily.com.cn