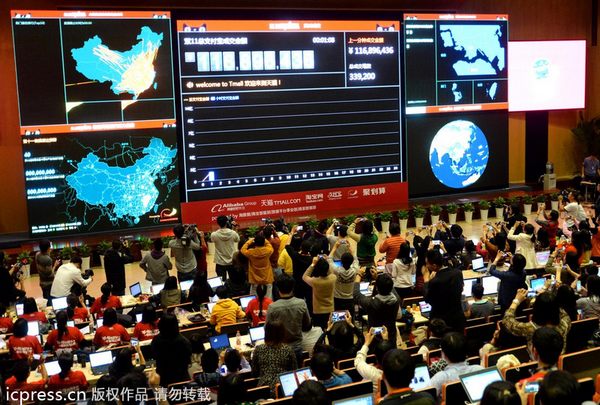 Media workers prepare to record the big moments at Alibaba Group headquarters as the big sales day approached on Monday, in Hangzhou, East China's Zhejiang province, Nov 10, 2013. According to statistics, just six minutes after the Singles Day sales launch on Nov 11, Tmall sales volume reached 10 billion yuan ($1.63 billion), about eight hours faster than last year's time. And one hour later, over 25 million orders were placed through Paypal transactions, hitting 6.7 billion yuan. Singles Day, a day for young Chinese people to celebrate their single status, is now like the post-Thanksgiving Day sales in the US when companies offer a range of discounts and promotions, becoming a lucrative opportunity for China's e-commerce platforms. During the last Singles Day, Tmall sales volume reached 13.2 billion yuan. [Photo/Icpress]
HANGZHOU - Chinese shoppers clicked their way through purchases in an overnight shopping rush on Monday, as China's online retail giants launched massive sales for "Singles Day" at midnight.
By 6 am, China's biggest online shopping site, Taobao.com, which operates Tmall.com, had raked in revenues of 10 billion yuan ($1.6 billion) from just 6 hours of sales.
Singles Day on Nov 11, or 11-11, chosen for its four "single" ones, first appeared on campuses. Young single people celebrate the holiday by eating together, sending gifts or going shopping.
Over the past four years, Chinese retailers have strived to cater to the trend, and have turned the day into a shopping event.
Taobao.com, a key sales platform under Alibaba Group, operator of China's biggest e-commerce platforms, launched a shopping festival on its consumer-oriented platform, Tmall.com, highlighting big discounts on Singles Day.
Journalists from more than 200 news outlets waited at the data broadcast hall of the company's headquarters in east China's Hangzhou City early Monday morning to witness its sales data soaring on a huge electronic screen.
The applause roared as revenues topped 10 billion yuan at 6 am, when more than 100 million consumers had placed orders via the online portal.
On the same day last year, it took 13 hours for the company's sales to top the 10-billion RMB benchmark.
Alibaba's data showed that 13.7 million buyers placed orders in the first minute of the holiday sales.