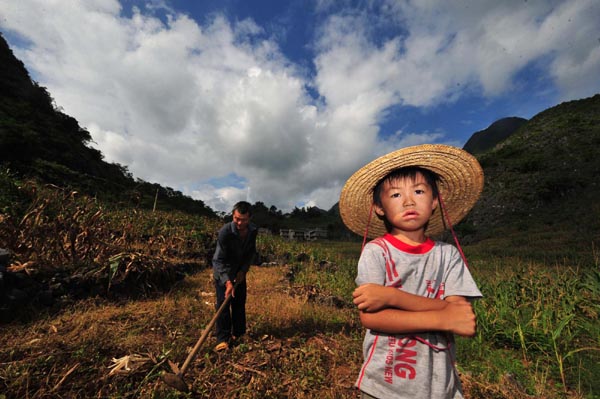 Qin Xiaohui, 6, helps his grandfather with farm work in a field in Balie village of Dahua Yao autonomous county, South China's Guangxi Zhuang autonomous region on July 5. Qin looks forward to the day when he is bigger and can help his grandfather more on the farm.[Photo/Xinhua]
A recent executive meeting of the State Council, China's Cabinet, laid out a series of policy measures to provide better care for needy children. Comments of some media outlets follow:
Xinhuanet.com:
Despite continuous improvements in the policies to protect children's rights and interests and improve their living conditions, some children still face safety and living problems because of physical disabilities, their families' financial situation, or lack of effective custody. Providing necessary care for these minors is the collective responsibility of the families, the government and society.
A report jointly published by the All-China Women's Federation and the National Health and Family Planning Commission last year says 3.3-4 million children under the age of 6 still live in dire poverty. The high number shows the country needs to make greater efforts to ease such children's problems. The government should classify these children into different categories and provide them with appropriate care and targeted aid so that an all-inclusive social security network for children can be woven.
The State Council meeting has taken a big step in this direction; the measures it has adopted include providing better medical insurance for physically challenged children, or those suffering from serious diseases and offering 12-year free education to physically challenged children from poor families, and creating a better living environment for needy children.
Children are the hope of a nation. To help children, especially those facing difficulties, grow up healthily is a binding responsibility of the entire society.