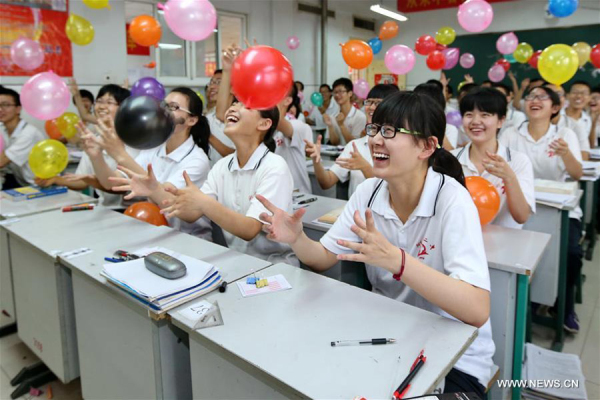 Senior high school students play with balloons to reduce stress at No 2 High School in Hengshui, North China's Hebei province, May 22, 2016. With the three-day 2016 college entrance exam beginning on June 7, students have entered the sprint stage of their studies. [Photo/Xinhua]
This year's national college entrance exam, or gaokao, begins on Wednesday. A majority of the students who sit the exams will pass it and enter a college, and the question now is whether they will gain admittance to a top university. For higher scorers in the exams enrollment in a top university will be a major turning point in their lives. China Youth Daily commented on Tuesday:
There are a large number of high school graduates but only a limited number of top universities. Only a few among the large number of examinees will get the offer to study at leading universities.
In 2015, only about 5 percent of the 9.16 million registered examinees were enrolled at one of the prestigious higher education institutions.
Aside from the better quality education resources these top universities offer, one of the reasons for the intense competition to be enrolled is the strong alumni network, which can be of great benefit throughout life.
Employers, too, look first to graduates from the most prestigious universities.
But it should be noted, too, that the university a student attends is just one of the factors on their career path. It will not decide the fate of every student's entire life.
Students that go to non-elite universities can still find success through their own efforts.
And of course, if someone from an elite university does not fare well that will reflect badly on them.