Photos and videos of students venting their pressure before the gaokao, national college entrance exam, which falls on June 7 and 8, have caused heated debate recently.
The photos showed some grade three students at a senior high school in Xiamen, a coastal city in Southeast China's Fujian province, tearing up their textbooks and throwing them out of the windows of the school buildings.
While a video that went viral online showed a similar scene at a senior high school in Liupanshui, Guizhou province in Southwest China.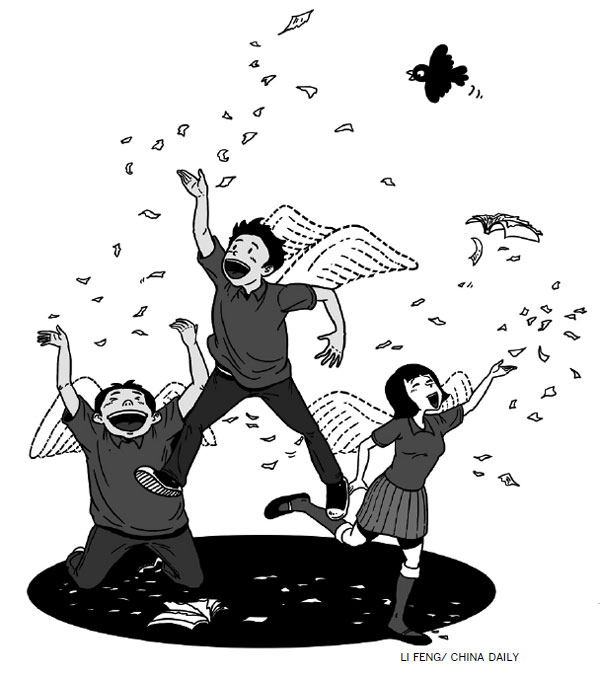 Amid deafening shouts and cries of "hurray", hundreds of used textbooks and old exam papers fell from the sky like snowfall.
The photos and video finally caught the attention of the authorities. On May 25, the Xiamen education authorities issued a directive, ordering schools to ban such activities and resort to other ways to effectively alleviate the pressure on students.
The directive, said to be the first official statement targeting the phenomenon, immediately made headlines nationwide.
The ban is actually long overdue.
Such student actions before the exam have been a recurring scene in recent years in some senior high schools around the country. It has even become a kind of tradition at this time of year.
Some schools have even acquiesced in such activities as a way to boost the morale of students.
But while students shouting at the top of their lungs may be interpreted as inspiring, depending on what it is they are shouting, tearing up textbooks and old exam papers should not be encouraged.
Books and papers are witnesses of students' hard work. Bitter or sweet, they are mementos that will help students recall precious memories of this special period in their lives.
And they are still valuable references that they will be able to use in college.
Tearing them up in impulsive group frenzies leaves nothing but piles of garbage that their schools have to clear up.
However, this way of releasing their pressure also reflects students' dissatisfaction with the current education system.
Academic performance remains the overriding priority throughout school education. A decent score outshines any other abilities in the eyes of teachers as there are often strict college entry rate requirements in many high schools.
Failure to ensure a certain number of students go to college can affect teachers' performance appraisals. That explains why at some schools teachers try and persuade the weakest students who have little chance of going to college to drop the gaokao to ensure a good enrollment rate from the school.
Like a sword of Damocles, the national college entrance exam hangs above students' head.
Considered a life-changing opportunity for students, due to its fierce competition, surviving the exam to enter a good university is described as "fighting to pass a single-log bridge against a legion of soldiers".
High expectations from parents, teachers and schools mean huge pressure for students.
The exam-oriented cramming method of teaching also fails to arouse students' interest.
After years of hard study for the sole purpose of taking the exam, the pressure builds up as it approaches.
Releasing the pressure is necessary for students to ensure they are in the best state both mentally and physically to sit the exam.
The official ban is a ban on extreme acts like tearing up books, not against student's releasing the pressure they feel.
In this sense, it is the responsibility of schools to guide students to relieve their pressure in more reasonable ways.
They could organize some group activities such as an outing to help students let off steam.
In the long run, though, the root problem still lies in the exam system.
Instead of deciding a student's fate through a single exam, the education authority should speed up its reform to diversify the exams for students with different talents.
Meanwhile, universities should be given more freedom to select the students they need.
Scores in the gaokao should be only a reference. A comprehensive evaluation system should be established to give students an objective chance to show their overall capabilities.
The writer is an editor with China Daily. lifangchao@chinadaily.com.cn
(China Daily 06/04/2016 page5)