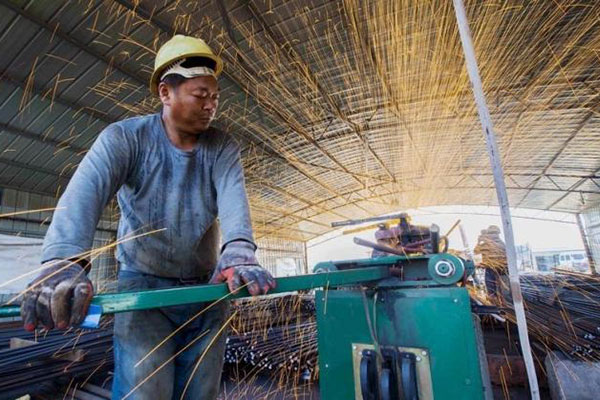 A labourer cuts steel bars at a railway bridge construction site in Lianyungang, Jiangsu province, September 12, 2015.[Photo/Agencies]
China faces two separate challenges: the long-term issue of a declining potential growth rate and the immediate problem of below-potential actual growth.
Indeed, the government's supply-side reform strategy will go a long way toward doing just that, ultimately stabilizing and even raising China's growth potential. But, contrary to popular belief, they will not boost China's actual growth rate today.
Why are so many economists convinced that a long-term reform strategy is all China needs? One reason is the widely held notion that today's overcapacity reflects supply-side problems, not insufficient demand. According to this view, China should implement policies like tax cuts to encourage companies to produce products for which there is genuine demand. That way, the government would not inadvertently sustain "zombie enterprises" which cannot survive without bank loans and support from local governments.
But only some of China's overcapacity can be attributed to bad investment decisions. A large share has emerged because of a lack of effective demand. And that is, at least partly, a result of the government's effort to moderate real estate investment, which has caused the sector's annual growth to tank, plunging from 38 percent in 2010 to 1 percent at the end of 2015.
With real estate investment still accounting for more than 14 percent of GDP last year, plummeting growth in the sector has put considerable downward pressure on the economy as a whole, helping to push China into a debt-deflation spiral. As overcapacity drives down the producer price index-which has now been falling for 51 consecutive months-real debt rises. This is undermining corporate profitability, spurring companies to deleverage and reduce investment, and fueling further declines in PPI.