2015-02-28
Xu Rongyong, a member of the standing committee of the CPC Zhangzhou Municipal Committee, who is also head of the city's Publicity Department, is being investigated on suspicion of serious disciplinary violations
2015-02-26
The executive vice-governor of Fujian province, Zhang Zhinan, inspected Pingtan, Feb 10 – 11, to study its development.
2015-02-25
The Pingtan Comprehensive Pilot Zone has some new ideas on how to improve its services, Pingtan Times reports, on Feb 7.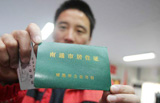 2015-02-15
China plans to abolish its controversial temporary residence permit and push forward reform of the household registration system.
2015-02-15
Fujian province's Party committee sent a delegation to Pingtan on Feb 4 to extend their best wishes for the Spring Festival.
2015-02-15
Zheng Xiaosong, deputy governor of Fujian province, led a delegation from the provincial government to Heping county in Zhangzhou city on Friday.