Home
> Cross-Straits Exchanges
2019-05-28
The second edition of the Cross-strait Guoxue Forum was held on Pingtan, an island situated off the coast of East China's Fujian province on May 24.
2019-05-28
A cultural and creative week gathering numerous artists from Fujian and Taiwan opened in Fuzhou on May 24.
2019-05-27
The 2019 Cross-Straits Dragon Boat Race kicked off in Xiamen's Jimei district on May 25.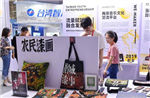 2019-05-22
A total of 310 Taiwan businesses are taking part in the ongoing second 21st Century Maritime Silk Road Expo & the 21st Straits Economic and Trade Fair in Fuzhou, capital city of East China's Fujian province.
2019-05-22
I was somewhat reluctant to choose the following topic for today's column. One could go so far as to say I had Second Thoughts about its content.
2019-05-15
A week-long cross-Straits exchange program opened in Xiamen on May 14, attracting more than 50 teachers and students from several universities from Taiwan including Shih Hsin University, Ming Chuan University and Chinese Culture University.