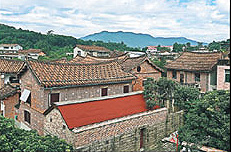 2012-06-08
Houhuang village is picture of green fields, clean rivers, and ancient buildings with redbrick walls and red-tile roofs.
2012-06-08
Gymnasium in Fujian province
2012-06-08
Fujian province libraries
2012-06-08
This museum was built in 1986. It lies in an ancient watchtower and is a provincial relic protection site, with a building area of 912 sq m and exhibit space of 350 sq m.
2012-06-08
Zhangzhou Museum is on Yingbin St, in the Longwen district of Zhangzhou in a building with five exhibit halls and an area of around 4,600 sq m, with 450-sq-m for relics and 3,600 sq m for exhibits.
2012-06-08
Xiamen Museum is located on the northern part of Gulangyu Island, off the city of Xiamen, and was built to preserve the memory of Zheng Chenggong (1624-62), a Ming Dynasty general who led an army that established Chinese control of Taiwan. There are many relics associated with Zheng's history near the museum.