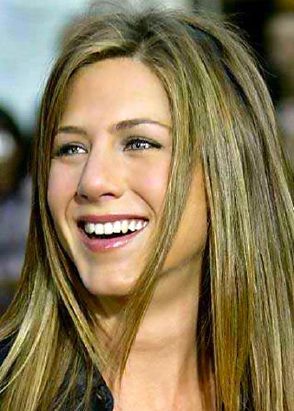 Birth Name:Jennifer Aniston
Date of Birth:Feb. 11th. 1969
Place of Birth:Sherman Oaks, California, US
Height:5'5''
Hair:Brown
Eyes:Brown
Schooling:New York's High School For The Performing Arts,graduated in 1987
Father:John Aniston, Greek American, actor (NBC's 'Days of Our Lives').
Mother:Nancy Aniston, Italian-Scottish, actress, ex-model.
Siblings:Two half-brothers, John Melick (older) and Alex Aniston (younger).
Godfather:Actor Telly Savalas, her father's best friend.
Start of Career:
Aniston moved to Hollywood and was cast in her first television role in 1990, starring as a regular on the short-lived series Molloy and in the TV movie Camp Cucamonga. After a string of canceled shows, along with her appearance in the critically derided 1992 horror film, Leprechaun, Aniston considered giving up acting. Aniston's plans changed, however, after auditioning for Friends, a sitcom that was set to debut on NBC's 1994–1995 fall line-up. The producers of the show originally wanted Aniston to audition for the role of Monica Geller, but Courteney Cox was considered to be better suited to the role. Thus, Aniston was cast as Rachel Green. She played the character of Rachel from 1994 until the show ended in 2004.
Jennifer Aniston has appeared in various commercials and music videos.
In addition to her career as a television actress, Aniston has enjoyed a successful film career.
Personal Life:
In 1998, she began dating actor Brad Pitt and married him on July 29, 2000, in a lavish Malibu wedding. For a few years, their marriage was considered the rare Hollywood success. However, the couple announced their separation on January 6, 2005. Pitt became involved with actress Angelina Jolie, though Pitt has denied cheating on Aniston with her. Pitt and Aniston were seen together publicly after announcing their separation, even at a dinner party for Aniston's birthday, and friends of the couple had declared they were reconciling. Aniston, however, filed for divorce on March 25, 2005. It was finalized on October 2, 2005. Media reports speculated that the split was due to Aniston's refusal to have children with him. Aniston denied that this was the cause of their split in an August, 2005 Vanity Fair interview, stating, "...I've always wanted to have children, and I would never again give up that experience for a career."
Aniston revealed that her divorce prompted her to reach out to her mother, Nancy, from whom she was estranged for nearly a decade. They initially became estranged when Nancy talked about her daughter on a television show and later wrote a book entitled, From Mother and Daughter to Friends: A Memoir (1999).
Following her divorce, Aniston began a relationship with actor Vince Vaughn, with whom she costarred in The Break Up. Relationship troubles were reported in September 2006, followed by a confirmed split in December of that year. She briefly dated model Paul Sculfor for a few months in 2007. In February 2008, she began dating singer John Mayer. The couple had broken up in August, but resumed the relationship in October, before splitting again in March 2009.
Aniston has had two septoplasties to correct her deviated septum—one which was incorrectly done in 1994 and the second in January 2007. Septoplasty is a surgical operation that helps alleviate a common condition that can lead to breathing difficulty and trouble sleeping.
She is the godmother of Coco Riley Arquette, the daughter of her good friends, actors Courteney Cox Arquette and David Arquette. Aniston is also very close with her formers co-stars in Friends, Lisa Kudrow and Matthew Perry.
Films:
1993Leprechaun
2002The Good Girl
Won a Teen Choice Award
Nominated for an Independent Spirit Award
Nominated for an OFCS Award
Nominated for a Golden Satellite Award
Nominated for a Teen Choice Award
2003Bruce Almighty
Nominated for an MTV Movie Award shared with Jim Carrey
Nominated for a Teen Choice Award
2006The Break-Up
Won a Teen Choice Award
Won a People's Choice Award
2008Marley & Me
Christmas Day box-office record with $14.75 million
Nominated for a Kid's Choice Award
Won a Teen Choice Award
2009He's Just Not That into You
Nominated for a Teen Choice Award
2010The Baster(post-production)
The Bounty Hunter(post-production)
The Goree Girls(pre-production)
Chemistry (in development)
2011Pumas (in development)
Holler (in development)
1994-2004Friends
Won a Golden Globe (2003)
Won a Primetime Emmy Award (2002)
Won a Screen Actors Guild (1996)
Won a Logie Award (2004)
Won 3 Teen Choice Awards (2002-2004)