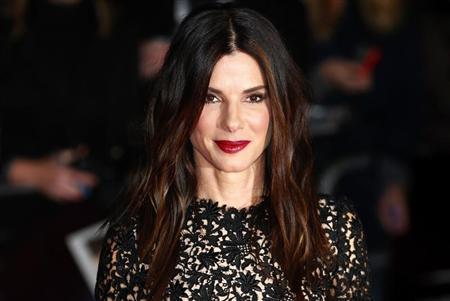 Actress Sandra Bullock arrives at a gala screening of her film "Gravity" at the London Film Festival at a cinema in Leicester Square, central London, October 10, 2013. [Photo/Agencies]
The 3-D outer space thriller, "Gravity," continued to rocket past its box office competition over the weekend, eclipsing newcomer "Carrie," to maintain its tight grip on the US and Canadian box offices.
"Gravity," starring Sandra Bullock and George Clooney as astronauts stranded in space, grabbed $31 million in ticket sales at North American theaters to hold the top spot for the third consecutive weekend. It had overall ticket sales of more than $170.6 million.
"Captain Phillips," a Tom Hanks movie based on a real-life pirate attack, was second with $17.3 million in ticket sales.
"Gravity" beat the $17 million made by "Carrie," which came in third. The remake of the 1976 horror film starring Sissy Spacek stars 16-year-old Chloe Grace Moretz as the shy girl who wreaks havoc on her tormentors by using her telekinetic powers to destroy her high school prom.
"Gravity" has become a word-of-mouth darling in its third week in movie theaters. Made for a relatively modest $100 million for a special effects film, "Gravity" has been boosted by IMAX's ultra-large screens, which has accounted for $38 million in ticket sales.
Jeffrey Goldstein, Warner Brothers' executive vice president for domestic distribution, attributed the film's success to "phenomenal word of mouth," and to its appeal in 3-D, noting that 82 percent of audiences opted for 3-D showings. Warner Brothers distributed "Gravity."
Related:
Bullock places hand and footprints in Hollywood
Taking her fears to greater heights
Sandra Bullock: I will do comedy 'until the day I die'