The man behind the new People's Daily headquarters unveils the inspiration behind his controversial design, and promises the finished product will silence critics. Sun Yuanqing reports.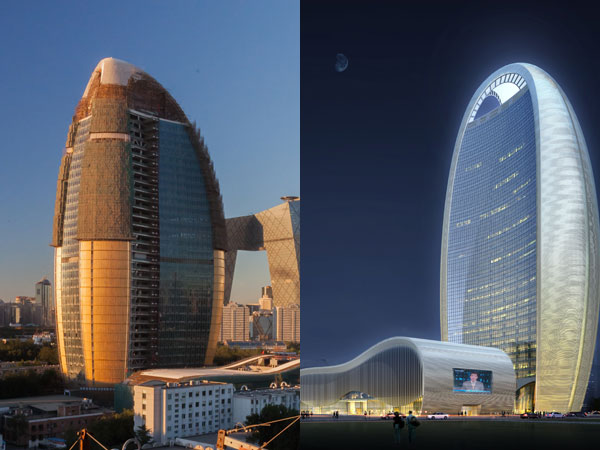 From left: The new People's Daily headquarters building is under construction in Beijing. Sketch of the building designed by Chinese architect Zhou Qi. Photos provided to China Daily
Beijing is full of futuristic buildings, but the new People's Daily headquarters stood out in pictures that caught it from a particular angle, giving it a phallic appearance. Having drawn attention for its shape in April, the building again became an online sensation for the newly plated gold on its surface, an iPhone 5S-like color that makes the building look even more garish.
Despite speculation on social media, Zhou Qi, the architect, remains upbeat, saying he believes the building will be a modest addition to Beijing's CBD that will add character to the area.
"This is a coincidence between the angle and this particular stage of construction, I never thought the scaffolds on top of the building would last for so long," says Zhou, who is also a professor at Southeast University in Jiangsu province. "Now combined with the sexual connotation and the newly launched iPhone 5S, it's totally understandable why people are so excited about it."
The gold "plate" is in fact the inner coat of the building, which contains insulating materials. That will soon be covered by a layer of silvery liuli, an ancient Chinese glassware with porcelain-like texture. The cap on top of the shaft, which has been the center of public attention, is in fact scaffolding to help to install the double coats. The scaffolding will be removed in a month, Zhou says.
Zhou chose gold as the color for the inner coat in a show of respect to the history of Beijing because gold has been extensively used in ancient architecture in Beijing, like the Forbidden City. However, the architect says the color won't stand out as much as it does now when coated with the semi-transparent liuli.
Inspired by double-curved creations that are commonly seen in nature, Zhou decided to make a difference to the concrete jungle in the CBD area in Beijing, which includes OMA's CCTV headquarters and China World Trade Center Tower III.
"Think about eggs and shells, they are all bi-curved. All the buildings in the CBD area are like square boxes, so I wanted to make something with an organic form, something closer to nature," Zhou says.