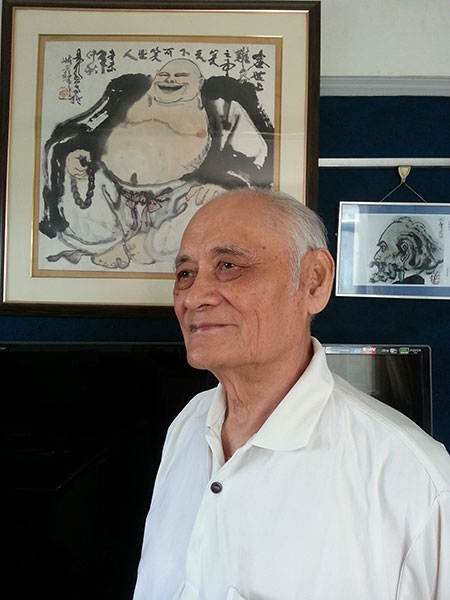 Chinese artist Wang Yiyang is good at combining the art of calligraphy with that of ink paintings. [Photo by Deng Zhangyu/China Daily]
Chinese artist Wang Yiyang has more than 10 ancient Buddhist sculptures in his Beijing home, from which he draws inspiration for his ink paintings.
A few of the figurines date back to more than 1,000 years ago.
The 84-year-old artist has been depicting leading lights of Buddhism through simple ink strokes since the 1980s by including aspects of Chinese calligraphy into his artworks to create a style of "cursive painting".
"It takes me days to meditate on how to draw these figures in simple lines. But the painting only takes me a few minutes to complete, usually in coherent ink strokes," Wang tells China Daily.
Wang worked as an apprentice in an antiques shop at a young age, which led to his fascination with Buddhist sculptures.
During the "cultural revolution" (1966-76), many ancient Buddha statues in temples and pagodas were destroyed, and people tried to protect the remaining ones by hiding them.
After the "cultural revolution" ended, the statues were dug out from underneath houses, but there were few places where they could be stored for preservation.
For many years during his young days as a painter, Wang collected Buddhist sculptures in payment for his paintings, he says. He kept them at home so that one day he could donate them to a museum.