When the young Chinese designer Zhang Huishan graduated from the prestigious Central Saint Martins school in London, he was, as many a young fashion design graduates, filled with dreams and ideas.
But Zhang stands apart by the speed and skill with which he made his dreams a reality. In 2011, he bravely established his eponymous fashion label, and from there his designs have gone on to win international acclaim. As testimony to his talents and achievements, this June the British Prime Minister David Cameron's wife Samantha Cameron wore one of his creations to meet Chinese Premier Li Keqiang and his wife at No 10 Downing Street.
"The backbone of my aesthetic approach is to fuse Chinese heritage with Western haute couture techniques and contemporary art," says the 31-year-old designer, originally from Qingdao in Shandong province.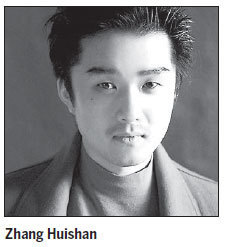 "Each collection embodies these two elements, linking them together in a unique way. This is of course one manifestation of my personal journey, as a Chinese person educated in the West," Zhang says.
Zhang left China at the age of 17 for Massey University in New Zealand. From there he leapfrogged to the prestigious Central St. Martin's in London, taking up a BA in fashion design and marketing.
During his placement year, he worked for Dior in Paris; first in the leather goods department under Delphine Arnault, then at the haute couture atelier.
The eponymous designer has been a darling of the fashion industry ever since his graduation show at Central St. Martins was picked up by Jessica Bumpus of Vogue.com and later championed by Angelica Cheung, founding editor of Vogue China.
For good reason too: Zhang is one of the few contemporary Chinese fashion designers whose work has been collected by the Victoria & Albert Museum, as well as snapped up by leading boutiques such as Joyce in Hong Kong and Barney's in New York.
The plan to start his own label was years in the making: "I used my time at CSM to develop my skills, to make connections, and to challenge myself. It was good training for me, because it combined fantasy with reality: a design focused course that also developed our business skills and market awareness".
Zhang says he made a business plan in 2010, prior to graduation, for which he won a prize from Deustche Bank fund for emerging creatives to fund his own label.
In the short space of two-and-a-half years, the Huishan Zhang brand grew exponentially, and now sells to 20 different luxury department stores in over nine countries.