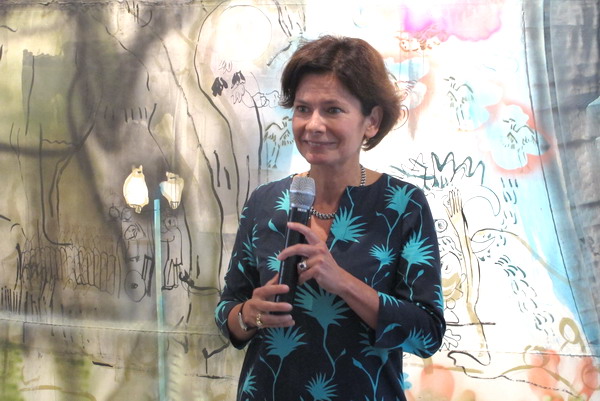 Writer and philosopher Christine Cayol, founder of Yishu 8, explains one of Sophie Lamm's paintings to the audience at art gallery Yishu 8 in Beijing, Sept. 13, 2014. Photo by Wen Yi/chinadaily.com.cn
Visitors also can see Lamm's studio at Yishu 8.
Born in 1982, Lamm graduated from the Paris National College of Fine Arts. Her solo show "One Day, The Moon" debuted in France in 2012.
Yishu 8 Prize originated in 2011. Every year, a judging panel composed of experts and collectors select three young French artists to live and create in Beijing for three months, as well as hold personal exhibitions.
If you go: Yishu 8, Former Sino-French University, NO 20 (jia), Dong Huangchenggen Bei Jie, Dongcheng District, Beijing +86 (10) 6581 9058 From Sept 13 to Oct 16