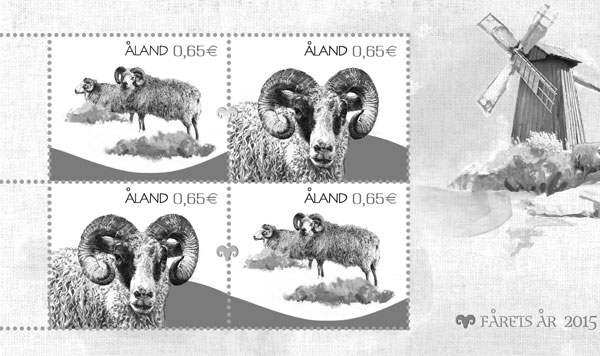 The miniature stamp sheet featuring images of sheep in Aland, Finland, is created by Chinese designers Hao Ou and Liu Bo. [Photo provided to China Daily]
While planners and decorators are gathering horse images as the Chinese New Year approaches, nine young designers at China Post are a year ahead of the game. They've just finished a competition to create stamps for the Finnish autonomous region of Aland, an archipelago of 6,500 islands famous for an endemic breed of sheep.
"We have been thinking about putting these animals on a stamp for years, but we have a lot of themes to work with," says Henrik Lunberg, CEO of Aland Post. When his management team found out that 2015 is the Year of the Sheep in China, he says: "We thought it was an opportunity and a good combination."
Anita Haggblom, director of the Aland postal service's stamp division, says: "We wanted to produce a miniature stamp sheet that was designed, engraved and printed in China."
The project was also an opportunity for China Post. China Post had just invested heavily in printing presses and pre-press technology tailored for hand-engraving, where an artist manually etches a stamp image into the steel plate that will be used to print it. Stamps with that superior craftsmanship are prized by collectors, an important market for Chinese philately shops.
In an era of photographic offset printing, that craft is quickly being lost, says Martin Morck, a veteran Swedish artist and engraver who has mentored the Chinese artists for more than two years.
Stamps have been engraved in China since the Qing Dynasty (1644-1911), says China Post's design director Yan Bingwu, but using that labor-intensive process in a modern, mechanized printing plant is new.
The artists' first challenge was to create images of sheep they had never seen. While this type of animal is quite familiar to Chinese, the specific species - a short-tailed sheep ranging in color from white to various shades of gray and beige to all black - had to be studied in drawings, photos and videos provided to the Chinese.
Then, Yan says, the designers had to capture the whole picture in a set frame size and shape for the stamps, unlike in paintings and drawings where the artists can set their own boundaries.
The winning design came from two women who worked together as a team. Hao Ou is the first woman engraver at China Post and a manager in that department. Her colleague Liu Bo was her partner in the project.
"We wanted to see aspects of both Aland and China," says Haggblom, and the winners achieved that combination by employing Chinese characters and an illustration style that was reminiscent of traditional Chinese painting.
"We also used a gold band - a color that is not only elegant but represents wealth and luck - to visually connect the four stamps on the sheet," Hao says.
"There was a variety of artistic and technical skills, so it was not easy to choose a winner," Haggblom says.
"The stamp committee had to have several rounds of meetings, and ultimately decided to separate the design and engraving awards. Beyond that, other students will get the job of designing commemorative covers, special envelopes used on a stamp's first day of issue, and cards."
About 28,000 people live on about 300 of Aland's 6,500 islands. The territory issues about 15 stamps per year.